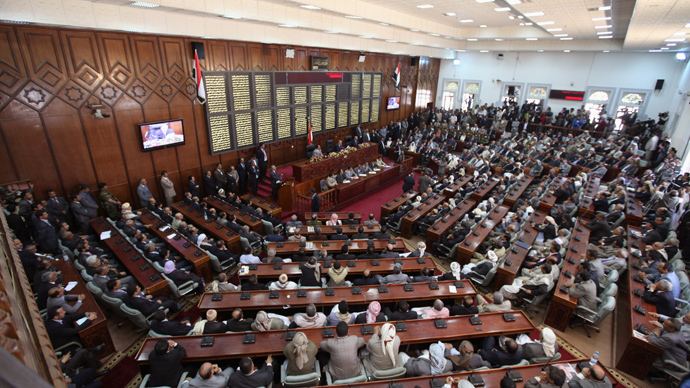 The Parliament chaired by its head, Yahya Ali Al-Rai, praised the military operation of army and popular committees in Jizan, during which a number of strategic sites were fall under their control.
The Parliament considered the recent operation in Jizan to be one of the honorable examples of the Yemeni response and the capabilities to revenge the brutal US-Saudi aggression, suffocating siege, and continuous restrictions on the most basic necessities of daily living. It saluted the steadfastness of the heroes of army, popular committees and free tribesmen defending the homeland, its unity, security, progress and stability.
In its meeting, the Parliament stood in front of number of important topics and issues, including the brutal aggression and unjust siege that Yemen is subjected to, which transgressed all international and humanitarian norms and conventions.
It stressed the importance of holding joint meeting with President of Supreme Political Council and Presidency of National Salvation Government, to raise and discuss number of important issues and topics according to the latest developments and developments of events.
The Parliament also stressed the importance of coordinating visions and unifying the national ranks to confront the conspiracies being hatched against Yemen, its unity, security, stability, and to strengthen and unify efforts among all state institutions to achieve integrated performance in the battle of steadfastness and construction.
It strongly renewed its condemnation of the arbitrary action the Board of Directors the International Parliamentary Union, in which exceeded its powers to recognize a Parliament that has no legitimacy.