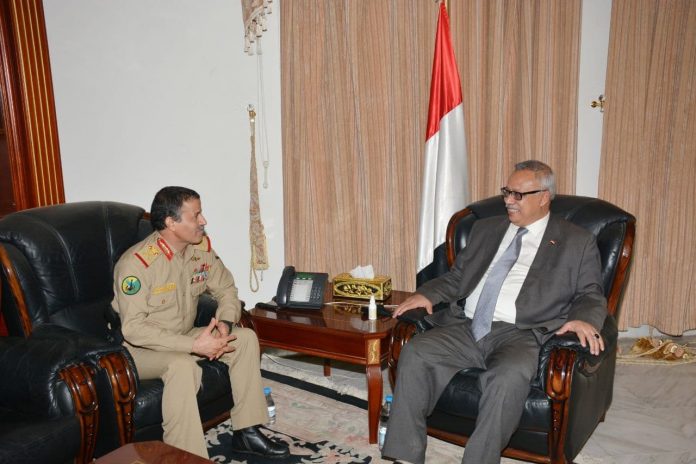 Prime Minister Dr. Abdulaziz bin Habtoor met on Sunday with Defense Minister Major General Mohammed Nasser Al-Atifi, who briefed him on developments on all fronts in general and Bayda axis in particular.
The Prime Minister congratulated the victories achieved by the Army, Popular Committees and the free sons of Bayda within the framework of the second phase of Operation Al-Nasr Al-Mubin.
Dr. Bin Habtoor affirmed that the Salvation Government would proceed with its plan to support the fronts and their heroes as a priority stipulated in its general program and annual plans.
For his part, Al-Atifi spoke about the situation on all fronts and the qualitative victories achieved by the Army and Popular Committees along with the volunteers from among the tribesmen during the recent period on many fronts.
He stressed the high morale of Yemen's fighters and their belief in the justice of their cause as they defend the homeland, pointing out that the Armed Forces and Popular Committees still keep many surprises for the US-Saudi aggression if it continues its aggression and oppressive siege.
The Minister of Defense praised the continuous level of governmental and popular support and material and moral support for the fronts and their loyal men. He pointed to the importance of continuing this support because of its positive effects on the fighters and their morale and enhancing their stability and legendary steadfastness on all fronts.