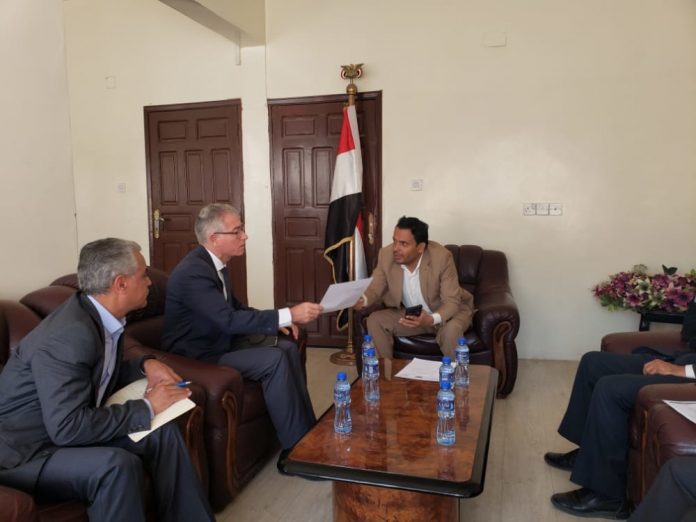 Acting Minister of Human Rights Ali al-Dailami met on Monday resident representative of UNICEF in Yemen Philippe Duamelle.
In the meeting, al-Dailami and Duamelle discussed relief aid bearing the UNICEF logo found in warehouses  of military leaders of the  aggression countries in al-Abdiyah district in Marib province.
They touched on the repercussions of closing Sana'a International Airport and the seaport of Hodeidah, especially on children who suffer from chronic diseases and have not been able to travel abroad for treatment.
The Acting Minister of Human Rights referred to the cooperation between the Ministry and UNICEF with regard to activities, events and training workshops for the protection of children, stressing that the Ministry considers the protection of children among its tasks and responsibility within the framework of its available capabilities.
Al-Dailami stressed the need to reactivate the file of protecting children during the aggression and siege and to work out a purposeful plan to serve children, pointing out that UNICEF was the one who stopped completing the procedures for this file.
He pointed out that the United Nations and humanitarian organizations did not move a finger on issues related to violations of children and their suffering as a result of the aggression and siege.
For his part, Duamelle expressed the organization's readiness to cooperate with the ministry in various humanitarian issues, especially the protection of children and providing them with assistance.
He indicated that the organization would follow up on the issue of humanitarian aid found in military sites and would provide clarifications to respond to the ministry's memorandum in this regard.
Duamelle stressed the need to open Sana'a airport and the seaport of Hodeida to alleviate the suffering of the people as a result of their closure for a long period which posed a danger to patients, especially children.