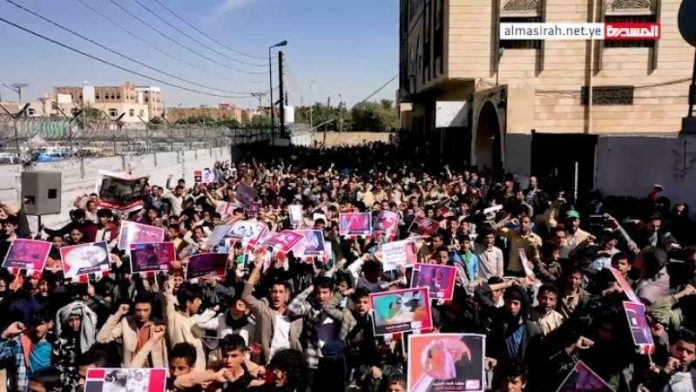 School students in Sana'a held a protest on Wednesday in front of the United Nations office, to denounce the crimes of the US-Saudi aggression on the occasion of International Children's Day.
With "America is killing the children of Yemen," the participants in the protest carried banners and slogans condemning the continued crimes and violations of the aggression against children and school students. They also carried pictures of children who were killed and injured as a result of the aggression against Yemen for seven years.
In the protest, which was attended by the Acting Minister of Human Rights Ali Al-Dailami, the Director of the Education Office Abdulqadir Al-Mahdi and the directors of educational areas in Sana'a, the students denounced the violations and crimes of the aggression against children and deprived them of their right to security, education, food and medicine.
They considered the commemoration of International Children's Day as an opportunity to remind the world of the suffering of the children of Yemen, as they have paid a heavy price for seven years in killing, siege, hunger, disease and depriving them of their legitimate rights, in light of the silence and inaction of the United Nations and its human rights organizations.
A statement issued by the students, in both Arabic and English, appealed to the global conscience, human rights organizations, and the free people of the world to stand by the Yemeni children and demand their legitimate rights guaranteed by international laws, charters and treaties.
The statement expressed regret for the world's celebration of the International Children's Day, at a time when the children of Yemen are facing killing, siege and deprivation of their most basic human rights that the children of the world enjoy.
It called on the countries of the world, the United Nations, the Security Council, the Human Rights Council, and international organizations to condemn the crimes of aggression against Yemeni children, lift the siege on the Yemeni people, and re-delivery of salaries so that children enjoy the most basic human rights in education and health.
The children of Yemen sent a message to those who work in humanitarian fields, children's rights and organizations that support education, "If you are honest, convince the world to stop the killing, destruction and siege on the sons and children of Yemen, so that they can obtain their right to education, awareness, science, security, stability and a decent life."
Saudi Arabia, backed by the US and its other regional allies, launched a devastating war on Yemen in March 2015.
The seven years and half of war has killed hundreds of thousands of people and destroyed much of the country's infrastructure. Yemeni people are facing malnutrition, hunger, and famine, which have increased risks of disease and starvation.