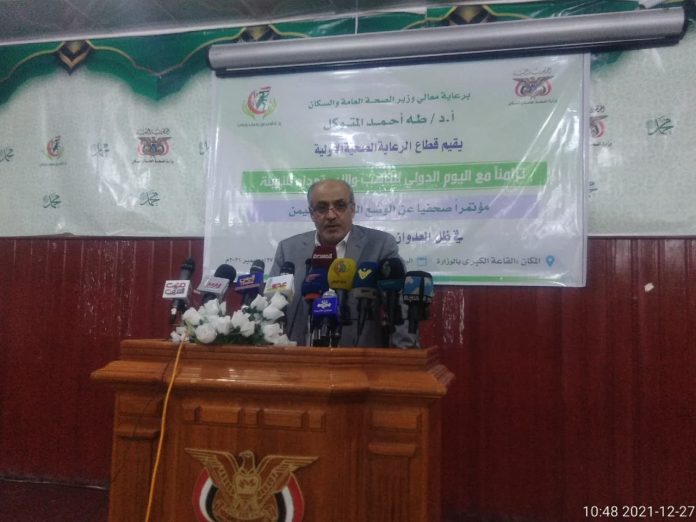 The Ministry of Public Health and Population on Monday called on international organizations to continue to support the health system in Yemen and focus on strengthening epidemic preparedness as a priority.
In a press conference held in Sana'a on the occasion of the International Day of Preparedness for Epidemics, Ministry's Undersecretary for health care sector Dr. Mohammed Al-Mansour held the US-Saudi-led aggression coalition responsible for the deteriorating health situation and the spread of pandemics in Yemen.
Dr. Al-Mansour reviewed the effects and repercussions of the coalition aggression on the epidemiological situation in Yemen, confirming that the aggression contributed to the spread of cholera, measles, diphtheria, whooping cough, and dengue fever.
He pointed out that 2.5 million children are suffering from acute malnutrition, of whom 400 thousand are at risk of death, according to the statements of the Director of the World Food Program. The United Nations and international organizations indicated that 21 million people need humanitarian assistance and that 247 districts are food insecure according to the phased classification.
The ministry's undersecretary expressed his astonishment at the UN Secretary-General's call for all countries of the world to commemorate the International Day for Epidemic Preparedness, which falls on December 27, forgetting the catastrophic humanitarian situation left by the coalition and the siege on Yemen.
He pointed to the factors that led to the deterioration of the epidemiological situation in Yemen, the most important of which are displacement, the spread of skin and respiratory diseases, the lack of water and sanitation services, targeting health facilities with the direct and indirect bombing, lack of oil derivatives in health facilities, and preventing entry of diagnostic devices, vital medicines, and spare parts for sewage treatment plants.
Dr. Al-Mansour indicated that cholera has spread in various districts of Yemen since the first wave in 2016, and in the second wave in 2017, Yemen recorded the worst cholera epidemic in the modern era, referring that the number of cumulatively registered cases reached more than 2.5 million cases, including 4,000 deaths.
He pointed to the return of diphtheria to Yemen in 2017, and the cumulative number of cases reached 8,000, including 500 deaths. In addition to the alarming return of measles outbreaks in all provinces, where more than 9,000 cases were recorded during the period from 2018 to 2021, as well as the spread of dengue fever, which has recorded more than 200,000 cases since 2017, including 500 deaths.