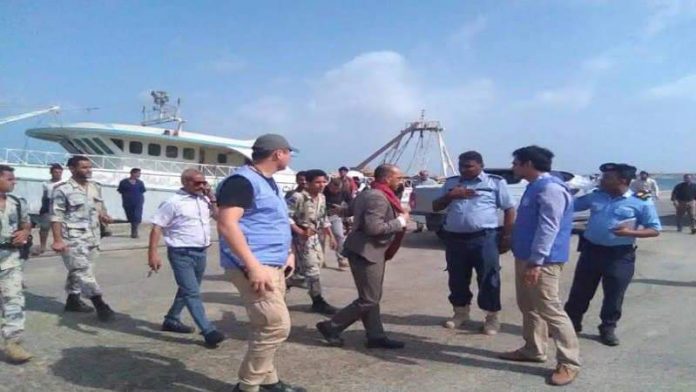 A group of the United Nations Mission to support the Hodeidah Agreement (UNMHA) ​​was briefed on the conditions in the ports of Salif and Ras Issa, as part of the visits of United Nations representatives to the ports of the governorate.
During its visit to a number of port facilities after allegations of the US-Saudi aggression  of using them for military purposes, the team heard from the Deputy Director of Salif Port, Engineer Hussein Nasser Farea, an explanation of the mechanism of work in the port, whose activity is limited to humanitarian works.
Farea stressed the importance of the UN team's visit to the port to closely see its activity in receiving civilian ships loaded with food and humanitarian aid, and to see the civilian facilities which the forces of aggression claim are used for military purposes.
He considered the allegations of the forces of aggression mere fabrications and pretexts, stressing that the Salif port was free of any military manifestations.
"Salif port is subject to continuous UN visits, and abides by all international marine requirements and codes, and the procedures in force in international ports. It is devoid of any armed manifestations, military barracks, or warehouses for assembling weapons, and the launching of warships," Farea said.
The Deputy Director of Salif Port pointed out that the threat of the countries of aggression to target the port will have catastrophic results, and will cause great damage to the livelihood of the Yemeni people, who depend on it mainly to supply relief, medicine and oil supplies.
For his part, the head of the visiting UN team indicated that the visit to Salif Port falls within the activities of the United Nations Monitoring Mission to see the extent of the port authorities' commitment to implementing navigational regulations and laws, and not to use it for military purposes that threaten the security of maritime navigation in the Red Sea.
He stressed the continuation of support to end the suffering of the Yemeni people in light of the continuation of the war.