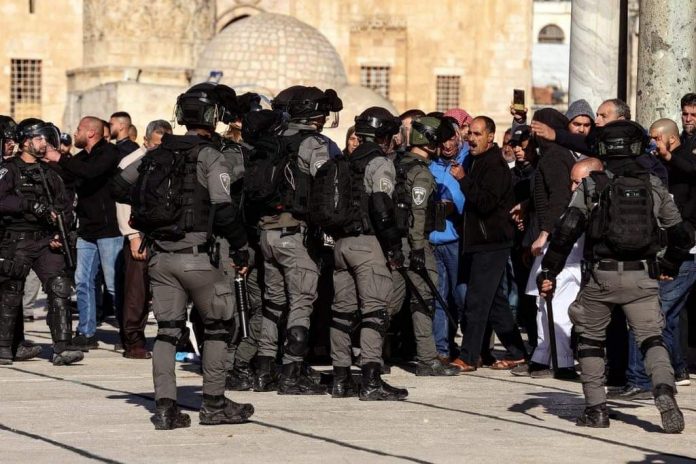 The Israeli occupation forces have on Friday morning broken into the Qibli prayer hall in the Al-Aqsa Compound, and savagely assaulted worshipers, before detaining hundreds of them, Palestinian media reported citing eyewitnesses.
According to Quds News Network, the Israeli occupation forces stormed the Al Qibli prayer hall inside Al-Aqsa Mosque, and fired sound grenades and rubber bullets directly at the worshippers inside it.
The eyewitnesses said that the aim of the Israeli forces' storming of the mosque is to empty it of almost all worshippers.
In the same context, Israeli forces arrested at least 400 Islamic worshipers from the al-Aqsa Mosque, particularly from the Qibli prayer hall, during the raid, said Sheikh Omar al-Kiswani, the director of Al-Aqsa Mosque.
"What happened today is an attack on all peaceful worshippers. This was a barbaric and premeditated attack on worshippers," al-Kiswani added.
The Palestinian Red Crescent said that it evacuated 152 injured worshipers from the Al-Aqsa Mosque to nearby hospitals, including many with upper body wounds.
In addition, Al-Makassed hospital in occupied Jerusalem said that they had received 40 injured people from Al-Aqsa, two of them with critical injuries.
Zionist extremists seek to eventually demolish the Al-Aqsa Compound entirely, a part of their vision to build a Jewish temple on its grounds.