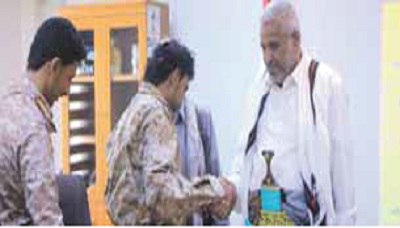 The local authority in Hodeidah province  received commander of a battalion in the so-called "Giants Brigade" of the aggression mercenaries Lt. Col. Masoud al-Mahjami, returning to the ranks of the homeland.
Hodeidah governor Mohammed Quhim, praised Al-Mahjami's return to the homeland, after the plans of the aggression countries were revealed to him to target Yemeni children and women, destroying  the infrastructure, plundering the nation's resources and controlling its sovereign decision.
Quhim stressed the keenness of the Leader of the Revolution and the Supreme Political Council to provide facilities for the returnees, whether in prior coordination or during their arrival, calling on those who are still on the side of the aggression to take advantage of the general amnesty decision and return to their families and regions.
In turn, the returnee, Lt. Col. al-Mahjami expressed his gratitude to the province leadership and the military and security services for the good reception, calling on the rest of those involved in treason to return to the ranks of the homeland to gain the honor of defending national sovereignty.