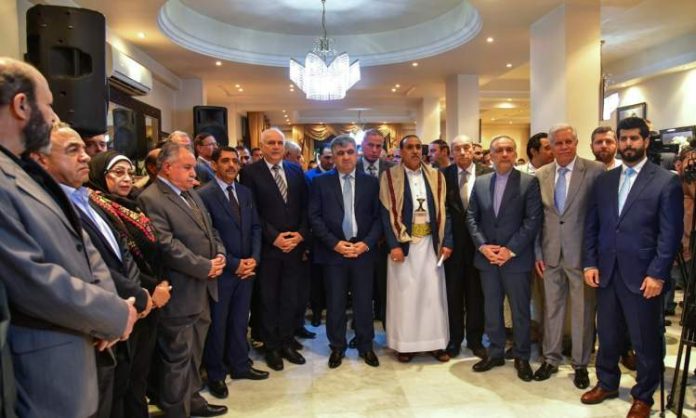 The Yemeni embassy in Syria celebrated the 32nd National Day of the Republic of Yemen, May 22nd , with official Syrian participation, members of the diplomatic corps accredited in the Syrian Arab Republic and leaders of the Palestinian resistance factions.
At the ceremony, Yemen's ambassador to Syria, Abdullah Sabri, said, "Yemen has been united politically and geographically for 32 years, in a historic and exceptional event for which the aspiration of Arab unity was explained, who saw the unity of Yemen as a basic building block on the path of the nation's unity, and the beginning of a way out of the state of disintegration imposed by it. period of colonization and foreign occupation.
For his part, the Syrian Defense Minister, General Ali Abbas, congratulated the Yemeni people for their celebration of the 32nd anniversary of Yemeni unity, and  express his solidarity with Yemen in confronting the aggression.
He considered the Yemeni unity a source of strength for the Yemeni people and a reason for their lofty pride and dignity.
"The Yemeni unity will remain firm in the face of the conspiracies and challenges it faces, and we are confident that the Yemeni people will have victory and defeat the invaders and aggressors." He said