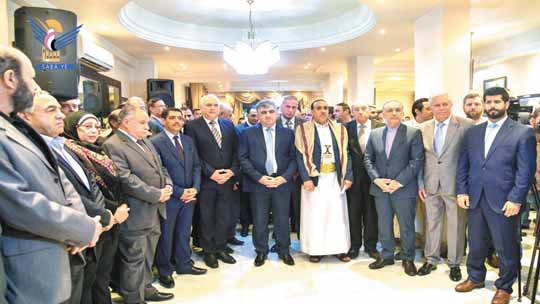 The Yemeni embassy in Syria celebrated on Thursday the 32nd anniversary of Yemeni Unity Day, May 22, with official Syrian participation, members of the diplomatic corps accredited in the Syrian Arab Republic and leaders of the Palestinian resistance factions.
At the celebration, Yemen's ambassador to Syria, Abdullah Sabri, said, "Yemen has been united politically and geographically for 32 years, in a historic and exceptional event that was seen as an essential building block on the path to the unity of the Arab nation."
He pointed to the danger threatening Yemeni unity due to foreign conspiracies and Saudi and Emirati interventions, which were manifested in the separatist and disengagement calls that some southern provinces witnessed.
Sabri reiterated Yemen's solidarity with Syria's leadership, government and people, and its right to liberate every inch of its occupied lands.
He praised the role of the resistance in Lebanon and Palestine, noting the heroism of the Palestinian people who celebrate the first anniversary of the battle of "Al-Quds Sword", in conjunction with the 22nd anniversary of the resistance and liberation and the victory of the resistance and Hezbollah, which forced the Zionist enemy and its agents to withdraw from southern Lebanon.