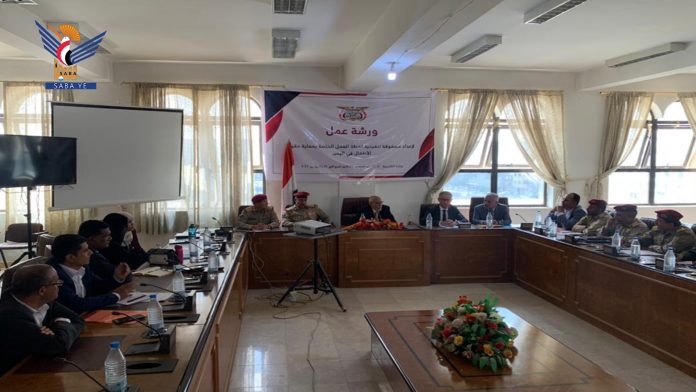 The Ministry of Foreign Affairs has started a workshop for members of the high-level technical committee concerned with supervising the implementation of the child protection plan signed between the Government of National Salvation and the United Nations on April 18.
The three-day workshop, organized by the Ministry of Foreign Affairs, aims to prepare an implementation matrix for the activities included in the action plan.
At the opening of the workshop, the advisor to the President of the Supreme Political Council for Diplomatic Relations, Ambassador Abdulelah Hajar, reviewed the violations and crimes that have been inflicted on Yemeni children as a result of the aggression and siege imposed on Yemen since March 26, 2015.
Hajar reiterated the adherence of the Yemeni people, the army and the popular committees to the tolerant religious values that forbid and criminalize abuse or harm children.
Ambassador Hajar affirmed the commitment of the National Salvation Government to implement the action plan in cooperation with the United Nations country working group in Sana'a.
For his part, the Deputy Chief of the General Staff, Maj. Gen. Ali al-Mawshaki, stressed that the international community ignores the crimes of the aggression against the Yemeni people and the consequent impact on education and hospitals, and its reflection on health care as well as psychological effects suffered by an entire generation of children.
He called on the international community to condemn the crimes and violations and their perpetrators and to put pressure on the countries of aggression to abide by international humanitarian law and international human rights law, as well as to condemn countries that supply weapons to the countries of aggression.
For his part, United Nations Resident and Humanitarian Coordinator for Yemen David Gressly, and Representative of the United Nations Children's Fund "UNICEF" Philip Dumael renewed the welcome for the signing of the action plan by the authorities in Sana'a.
They stressed the importance of translating the plan into reality, and the readiness of the United Nations to provide the necessary support for its implementation.