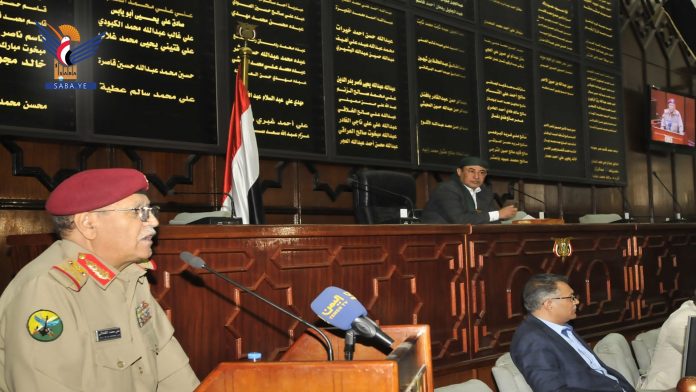 The Parliament, in its session on Saturday, called on the Security Council, the United Nations and the international community to bear the humanitarian and moral responsibility towards the suffering of the Yemeni people.
The session headed by Deputy Speaker Abdulrahman Al-Jam'ai, who congratulated the Yemeni people on the agreement to extend the armistice for additional two months.
The Parliament members demanded an end to the absurd and aggressive war that exhausted the Yemeni people and caused loss of life and destruction of infrastructure and private and public properties, and led to the spread of famine, the spread of diseases and epidemics, and a severe shortage of food, medicine and fuel.
They stressed the need for the truce to include all regions of the country, and not be limited to the limited entry of ships and a number of flights to and from Sana'a International Airport, and that the truce includes lifting the complete blockade of Yemeni ports, airports and corridors between cities, including Taiz province.
The Parliament called on the Yemeni forces to exploit the truce and move towards a national dialogue that ends the chapters of aggression and siege and puts an end to foreign interference and foreign tutelage in a manner that preserves Yemen's unity, sovereignty, security and stability.