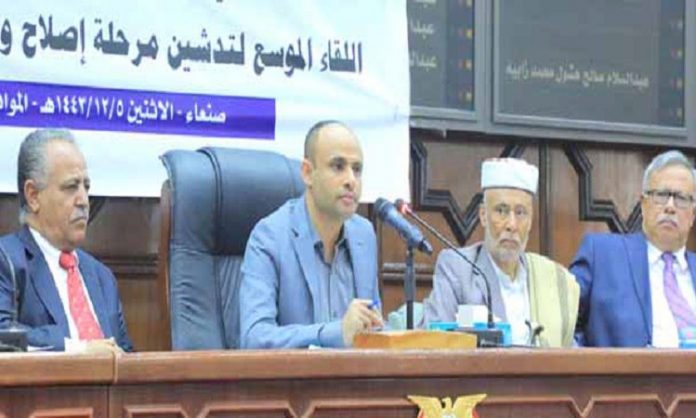 Mahdi al-Mashat, President of the Supreme Political Council, inaugurated on Monday in Parliament the general plan of the state of 1444 and the reform path and development of laws.
During an expanded meeting to inaugurate the reform and development of laws in Parliament, President al-Mashat confirmed the readiness to implement the plan at the beginning of 1444, considering the meeting an inauguration to start implementing the plan.
Al-Mashat said: "Through our meeting today, and after discussions, deliberations, and the outcomes of the bodies and committees formed, we announce —-the transition from the Gregorian date to Hijri date, as an official date for the Yemeni state, with all its systems and transactions from the beginning of Hijri year 1444 AH,— as it indicates the adherence of the Yemeni people to their faith identity."
He pointed out the importance of focusing on the standards' issue of a project to develop legalization and regulations. He clarified "This is very important, and I believe that this topic has been discussed for a long time, and standards were set so that the issue does not remain subject to moods, or that the official in any institution comes to build the institution as if it were his house, or as if it were his property, and that each one of us set out to build his country, and it is very important that the title of this project be, each of us seizes the opportunity to build the institution.
He addressed all officials by saying The institution may be in it today and tomorrow other than you, so work to build a state, not to build yourself, because today you are in it and tomorrow you are passing, whether fading from this world or from this responsibility, which history will write to you when you build a state institution, as for when you set out to adopt your personal situation, these efforts will be fleeting and will be a catastrophe and a curse for any official for generations after him, so I advise from here – of course, we have the strict and precise mechanisms to control this issue, but I advise that those concerned help us in all proceeding to build our state."
The President expressed his aspiration for the important and pivotal role of Parliament in achieving the required balance, in order to ensure the achievement of the main and urgent entitlements, foremost of which is confronting aggression and preserving state institutions, and doing everything possible to enhance steadfastness and cohesion, and establish the building of the modern Yemeni state that meets the aspirations of the Yemeni people, stressing that the correct performance and hard work of the Supreme Political Council ensures a good performance and the quality desired by the executive authority.
He urged employees in all sectors, in particular in the administrative sectors, to move and urge the steps to reach practical steps and move from the reality of theorizing to the reality of work.
The President continued, "We need to constantly update the plans, and this is a natural thing, and I hope everyone understands, that we are facing a changing stage and situation in all fields, in all axes, and frameworks in the Republic of Yemen."
He added the formed set out to keep pace with development and update the legalization and regulations, adding " we are only developing and modernizing according to the requirements of the stage and reality, and we have an opportunity to move towards building our state with a patriotic thought and orientation with pride and glory away from guardianship.
He said, "Therefore, it remains only for our officials / employees to think about this project, each one on his/her post as for guardianship time has passed— and our country has achieved freedom and independence, adding that narrow thinking of any official / officials, the state has the mechanisms that control them."
He said, "We are heading towards institutional building —- we will go to institutional building, regardless of who is the reason for reaching the next stage", clarifying that "the institutional building is what we will work on in the future, and build our state."
The President of the Supreme Political Council stressed that "we have an opportunity that many countries have gone through successful experiences, and from here I urge the concerned committee that is in charge of this project to take into account the most prominent successful experiences in many countries and take from the successful experiences the best of them, to shorten the distance and we do not need to repeat the experiences of there are successful experiences in several countries that can be built upon and benefited from in this field.
He added: "What we hear from the lessons of the Leader these days, consider these lessons a constitution for the Muslim official, who must possess those qualities and recommendations that Imam Ali – peace be upon him – made to Malek al-Ashtar. This is a constitution that should be before the eyes of every official among us."
He called everyone to listen to these lessons due to their importance and said: If the soul is correct, the practical reality will be correct, and if the responsible person will be correct, he will correct his reality and his surroundings, and this is very important. It was, and we need to have those qualities that the leader hopes to raise ourselves until we reach this level so that it is a much better production than it is now.
President Al-Mashat added, "In this context, a few days ago, I sent a letter to the Prime Minister to oblige the ministers who did not submit their financial disclosure statement to submit it as soon as possible, and I said that I am sorry that I personally have not submitted it yet, but why? Because I do not have anything."
He pointed out that the enemies take advantages of many irresponsible people, in particular in the media field, adding that when the stage reaches harming the public interest then it is called a treason of the country.
Al-Mashat continued by saying: "The other type, who run after chaos who want to ruin the country, as they do not have any evidence, but they are barking without any evidence, and these are a group of haters and do not want reform, but they are bidders, and they do not have a vision, so whoever has any creative solutions, please, we are looking for them —- "
He added: Those who turn to constructive criticism are welcome. As for those who q43 stabbing in the back, we will proceed with full force and power, and we will not surrender to them, no matter what their horns and tongues are, because it does not affect us at all. We are in front of a lot of entitlements for our people.
President al-Mashat said: There are situations that we aspire to reach, but there are obstacles. Therefore, there are many efforts that are being made, so we do not flog ourselves, because we have not reached the ideal situation that we hope and aspire to and that the Leader of the revolution desires—-we are admired by the world for the steadfastness of our warriors on the fronts and the steadfastness of our security and political fronts, and therefore your morale must be high on the clouds, so go ahead and listen to what the Leader says, and let each one of us try to reform himself, to build the future of our generations correctly.
He pointed out that "the sons of the organizations have a role in the propaganda, " but our people are immunized with awareness, and you will not reach and you will not be able to penetrate the awareness of our people. Our people are immune by their identity, civilization and faith. They give the truth according to justice and equity, what we can benefit from, we do not condemn to benefit from anyone—."