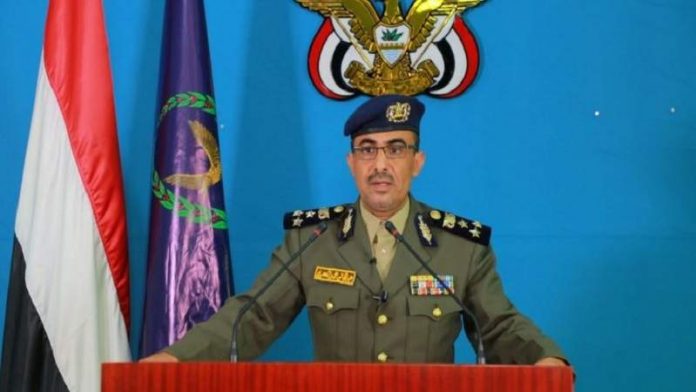 The Ministry of Interior in the National Salvation Government in Sana'a has revealed on Friday in a press conference its achievements during the past Hijri year 1443 .
The Ministry of Interior Spokesman Brigadier Abdulkhaleq Al-Ajri confirmed that 65,801 crimes were caught, more than 73 tons of hashish and 3,659 thousand of narcotic pills were seized.
He stated that during the past Hijri year, the frontlines were supplied with 2,992 officers and fighters.
Brigadier Al-Ajri indicated that 713 weapons, 438 explosive devices, 25,405 various ammunitions, and 8,104 electronic pieces were seized.
He confirmed that the US-Saudi aggression exploited any event to engage citizens in internal fighting, such as revenge, explaining that the ministry contributed to solving more than 16 thousand cases of revenge, some of which were 20 years old.
The spokesman pointed out that over 120 looted cars were restored thanks to God and security vigilance.
Brigadier Al-Ajri confirmed that 26 gangs with various hostile roles, and 335 US-Saudi mercenaries returnees from the frontlines, and 183 mercenaries who mobilize for the aggression were arrested. It also arrested, 18 spies and 2,619 US-Saudi mercenaries, who sent military and security sites and personalities to the aggression to target and assassinate them.
Regarding the entry of drugs and hashish, he indicated that the US-Saudi aggression facilitate their entry in large quantities through the ports it control, stressing that all the conspiracies of aggression are doomed to fail, thanks to God and the vigilance of security men.
The Ministry spokesman added: "After the enemy failed to bring drugs in large sizes, he tried to enter narcotic pills and ampoules of small size," revealing that 3,659,322 narcotic pills and ampoules, 59 kg of shabu and 74 kg of heroin had been seized. A number of smugglers and drug dealers were arrested.
"More than 9,000 robberies and assaults on lands were controlled," he said.
He warned all security men in various departments and sectors against committing any violations against citizens, noting that the directives of the leader, Sayyed Abdulmalik Al-Houthi, and the president state that anyone seeks to harm the security of the citizen will be punished.