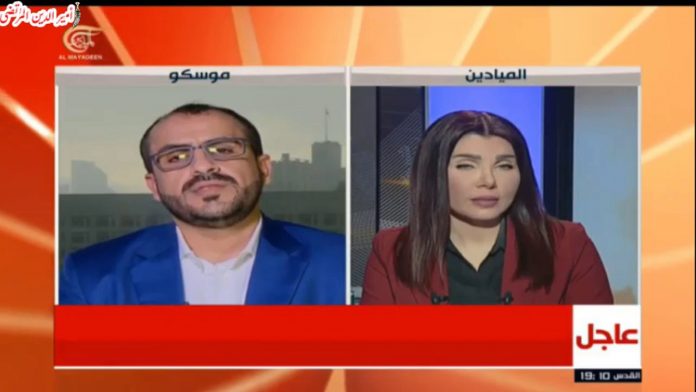 The head of the National Delegation, Mohammad Abdulsalam, commented on his current visit to the Russian capital, Moscow, and his meeting with Russian officials.
In an interview with Al-Mayadeen TV, Thursday, Abdulsalam said that the national delegation discussed with the Russian officials the impact of war in Yemen, after the developments in the war of Ukraine, explaining that Yemen faced the American danger early.
The head of the national delegation said that there are changes in the Russian position towards Yemen, as it realized that Yemen can be a strategic influence.
He pointed out that the visit to Moscow comes in an exceptional circumstance to find a benefit for the people of Yemen at such a stage.
Abdulsalam stressed that as long as the US-Saudi aggression and siege continue, Yemenis have the right to meet and unite with all those impacted by the American agenda, including Russia. He pointed out that there are new challenges that Yemen shares with Russia, Iran, the countries of the Axis of Resistance and other countries affected by American hegemony.
He explained that what is happening in Yemen is not a Saudi-Emirati aggression because these are only tools of the American agenda. He pointed out that there is a change in regional and international opinion, and the Saudi regime is aware that American protection is no longer assured.
Commenting on the continuation of the UN-sponsored truce, the head of the national delegation said that extending the truce may be the last in the event that employees' salaries are not paid and the US-Saudi siege is not lifted.
The head of the national delegation stated that Yemen's oil is looted and supplied to Saudi banks, while the salaries of employees are not spent.
He said: We presented an initiative to open an account in Hodeidah for all revenues, however the Saudi-backed party refused to deposit it. He added: We demand the rights of the Yemeni people and consider that non-payment of employee salaries is a crime against our people.
The head of the national delegation stressed that a comprehensive ceasefire would not be reached if the humanitarian issues were not resolved, and the US-Saudi aggression, siege and occupation is not ended.
Warning the foreign companies that plunder Yemen's wealth, Abdulsalam stressed that they must realize that they will not continue looting for one moment after the end of the truce.
He added that we cannot accept the siege on our country as long as we are alive. He stressed that Yemen possesses capabilities that have proven their effectiveness in Abu Dhabi and Saudi lands, explaining that if the truce fails, we will have to go to a military escalation.
Abdulsalam reiterated Yemen's firm and supportive position for the Palestinian cause, stressing that Yemeni people and leadership.