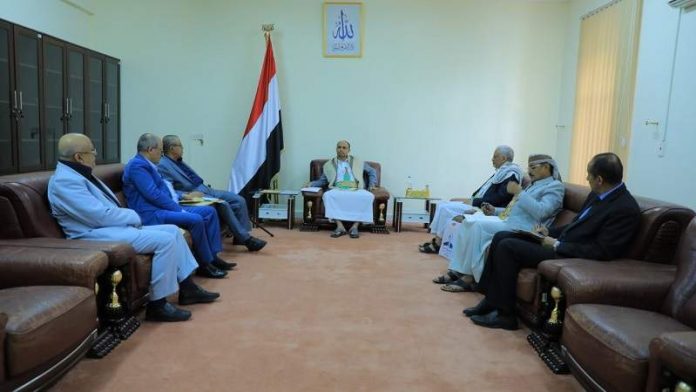 The Supreme Political Council explained it will study everything that has been submitted to the council regarding the extension of truce and will take the appropriate decision regarding it, in a manner that alleviates the suffering of the Yemeni people.
In a meeting chaired by Council President Mahdi Al-Mashat Sunday, the Council explained that expanding and strengthening the advantages of the truce in humanitarian aspects will help discuss any serious ideas in this regard.
The council discussed developments related to the judiciary, praising the efforts of the justice system, stressing support for the independence of the judiciary and the development of its performance at all levels in order to achieve the contents of justice.
The Council valued the military parades held by the Ministries of Defense and Interior, praising the level reached by the armed and security forces, which confirms their high readiness.
The meeting reviewed the report submitted by a member of the Supreme Political Council, Sultan Al-Sami'i, on his visit to the governorate of S'ada, and stressed the importance of meeting the urgent needs of the governorate.
Recently, President Mahdi Al-Mashat discussed with Defense Minister Major General Mohammed Al-Atifi, the developments of the humanitarian and military truce.
He praised the military development that Yemen's army is witnessing, which was evident during the military parades that took place in the various military regions. He stressed that the Yemeni army has become trusted force for the homeland and the people, able to preserve their rights, and bring down all foreign conspiracies aming at dividing the country.
The meeting touched on the continuation of the US-Saudi aggression's violations of the truce, the latest of which was the detention of fuel ships.
President Al-Mashat affirmed that no breach of the truce will be accepted, stressing the need to disburse all salaries of state employees, and restore the looted oil and gas resources. He pointed out that the facts in front of the US-Saudi aggression necessitated it to release the detained ships, and to stop detaining them.
President Al-Mashat assured all citizens that the Yemeni people are now able to extract their legitimate rights, and that this crisis created by the US-Saudi aggression will soon end.