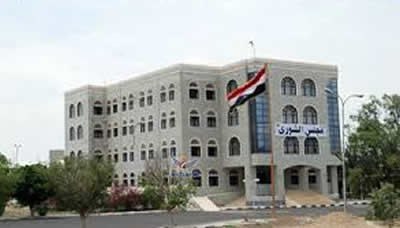 The Shura Council condemned on Saturday the British government's support for the measures taken by the government loyal to the Saudi-led coalition to raise the customs dollar price on imported goods.
In a statement issued today, the Council considered the British position to reflect the extent of the United Kingdom (UK)'s hidden criminality and hatred towards the Yemeni people and its relentless pursuit of obstructing peace in Yemen and increasing the suffering of the Yemeni people.
The statement affirmed that the statements of the British ambassador revealed the ugly face and the criminal role that Britain plays in Yemen and its public standing behind the economic war and the starvation policy that it implements through its tools and mercenaries against more than 35 million Yemenis.
The Shura Council considered that these statements confirm beyond any doubt Britain's actual involvement in the war crimes being committed against humanity in Yemen and give the Yemeni people the right to sue the British government through international courts for its actions and crimes.
The statement noted that the policy of destroying peoples is not strange to the UK, and the evidence for that is what is happening in the occupied Palestinian territories since the ominous Balfour Declaration and other countries that Britain colonized and left its agents and mercenaries to wreak corruption and crime.
The Shura Council's statement warned of the consequences of proceeding with such arbitrary measures aimed at increasing the suffering of the Yemeni people, fighting them with their daily livelihood, prolonging the war in service of the British-American-Zionist colonial goals and undermining the peace process in Yemen.
In its statement, the Shura Council called on the United Nations and the free people of the world to condemn the blatant interference of the British government that contradicts all international conventions and norms and seeks to obstruct peace efforts and worsen the economic and living conditions of the Yemeni people.