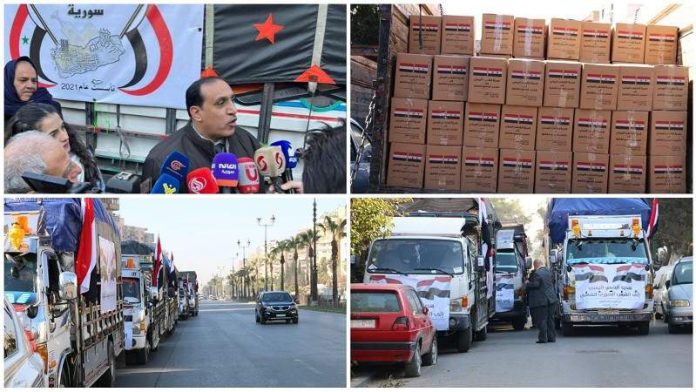 DAMASCUS, Feb. 19 (YPA) – The Yemeni community in Syria, sent a relief convoy, to Lattakia Governorate in support of those affected by the devastating earthquake under the slogan "From Yemen to Levant, We Are All Resistance."
The convoy consists of six trucks containing blankets, furniture, winter clothes, foodstuffs and medicines, in addition to mobile beds and medical supplies.
The Yemeni ambassador to Damascus, Abdullah Sabri, said that the relief convoy comes within the framework of solidarity with the brotherly Syrian people and an affirmation of the bonds of relationship between Yemen and Syria.
He pointed out that the convoy is the least duty towards the brotherly Syrian people and the Syrian government, which stood with Yemen at various stages and stations.
Sabri explained that members of the Yemeni community and from various provinces participated in collecting material and in-kind donations and were with their Syrian brothers during the first stages of rescue operations and assistance to the affected.
The Yemeni ambassador called for lifting the US blockade and sanctions on Syria, praising at the same time the countries that rushed to provide relief to Syria and still are.
For his part, the head of the Council of the Yemeni Community in Syria, Muhammad Naji al-Awlaki, expressed his appreciation for the efforts of the community in moving this relief convoy, considering that what the community is doing is "nothing but an effort, but with a lot of love and solidarity with the Syrian people."
He pointed out that the community is working on arranging a second convoy that is scheduled to set off for Aleppo province in the coming days.