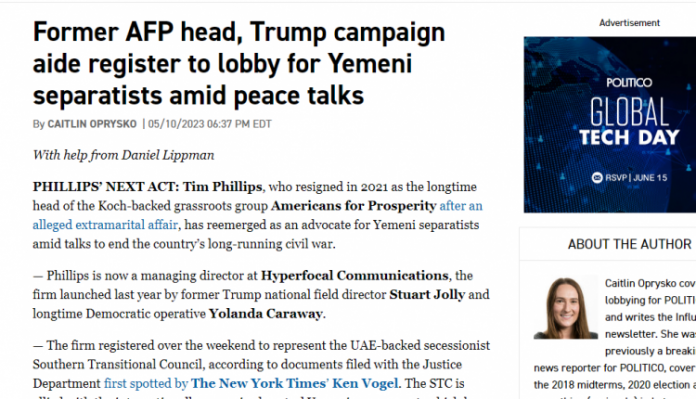 The US Department of Justice leaked documents about the UAE-backed Southern Transitional Council (STC) militias contracting with an American company to support the STC in Washington.
The POLITICO newspaper founded by Stuart Jolly, the field director of Donald Trump's electoral campaign, along with democratic activist Yolanda Caraway, in favor of forming pressure within the US Congress, the White House, the media and US government institutions, had revealed the documents showing that the representative of the "STC " Saleh Al-Qaiti contracted with the American firm, believed to be motivated by the Emirates, with the goal of confronting Saudi Arabia's competition with it in the southern provinces of Yemen.
The newspaper reported in a report titled "The former president of France Press, an aide to the Trump campaign, registers themselves to lobby for the Yemeni separatists amid the peace talks," last Wednesday, that the documents were leaked through the US Department of Justice, and included the agreement between "STC and Hyperfocal Communications, which the STC paid for the value of the contract with amounted to one million and 200 thousand dollars, approximately one and a half billion Yemeni riyals.
American newspaper reveals STC's contracting with US firm to support its separation
The documents indicated that the American firm registered with the US Department of Justice on May 5, a license to represent and adopt rhetoric and propaganda for the STC inside the decision-making centers of American institutions with the goal of directing American policy towards its support for separation.
The newspaper indicated that the company, which is run by the American political activist "Tim Phillips", will work with "Yolanda Caraway and Stuart Jolly" to support the STC's interests in Washington, with the help and cooperation of Democratic lobbyist Brian Woolfolk, former spokesperson for Hillary Clinton, and with them a spokesman for the American Football Association, Traci Blunt, Lauren Gilmore, and Robert Wilson.
Meanwhile, Stuart Jolly touched on the most important tasks that the campaign will promote, which is to assure officials in Washington of the importance of "Yemen, whit is a country in a strategic location in a place fraught dangers, and it is in everyone's interest that the coalition-backed government be successful, because its controls the coasts of southern Yemen and areas located at the intersection of the Red Sea, the Gulf of Aden, and the Arabian Sea