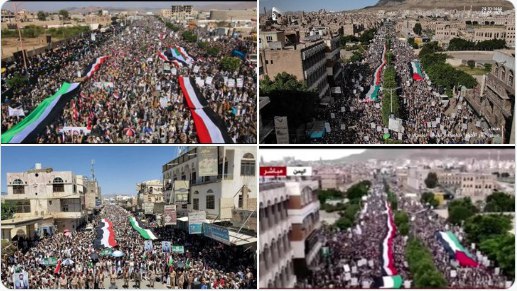 Millions of Yemeni people have staged rallies on Sunday afternoon in the capital Sana'a and several other provinces, in solidarity with the Palestinian people and in support of the Palestinian resistance in the face of the Zionist enemy.
The demonstrators carried Yemeni and Palestinian flags, slogans of freedom, and chanted slogans denouncing the Zionist aggression on Gaza, emphasizing Yemen's support for the Palestinian People in the face of the Zionist enemy.
In a speech during the rally in Saada province, Member of the Supreme Political Council Mohammad Ali al-Houthi affirmed Yemen's support for the men of Gaza who stood in the face of the Zionist enemy that was committing crimes against the Palestinian People.
"We are steadfast with the Palestinian cause, and today we stand for Palestine, and we support the free heroes in Palestine in the process of revenge for the free," Al-Houthi said. "The Zionist aggression bombed cemeteries and homes in Gaza, just as we saw Saudi Arabia, the US and the UAE bomb our cemeteries and homes in Yemen."
He pointed out that the miserable regimes that possess all the arsenals of weapons and money stand today unable to fire a single bullet in support of Palestine.
"We see Saudi Arabia and the Emirates today broken in front of Yemen. They see the Iron Dome failing to fortify the Zionists, so how can they protect the countries having normalizing ties with Zionists," he added.
Al-Houthi congratulated all the Palestinians, despite all the sacrifices, for their victory in this steadfastness against the arrogance of the Zionist enemy. He pointed out that today's march confirms Yemen's steadfastness with the Palestinian cause.
Meanwhile, the statement issued during the rally, saluting the steadfastness of the Palestinian people and the resistance movements in fulfillment of the blood of the martyrs against the brutal Zionist aggression on Gaza. It valued the resistance movements and the unity of the ranks in the face of the arrogant enemy, appreciating their great sacrifices.
The statement condemned the international silence, considering the US a key partner for Israel in the aggression on Gaza.
It also denounced the miserable and shameful state of the official Arab regime, deploring the situation of the Arab League, which no longer represents the Arab peoples eager to confront Israel and support Palestine.
It reaffirmed the loyalty of the Yemeni People to Palestine and their support for the Palestinian people, and its presence at any stage of the conflict for actual and direct participation as a religious and moral duty towards the Nation's sacred cause.
The statement called on the Arab and Islamic peoples to assume their responsibility and move with all force to support Palestine and Al-Quds.
It commended the victory of the resistance in the battle of "Revenge of the Free" in the face of the Zionist enemy, which was unable to restore the deterrent force, but rather it is eroding more and more.