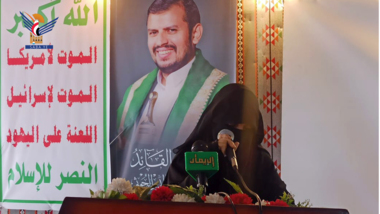 The General Administration for Women's Development in the capital Sana'a organized a cultural event on the anniversary of Al-Sarkah in the face of the arrogant for the year 1444 AH.
At the event, the Director of the Research Department of the Secretariat, Ummat al-Quddus al-Sharai, reviewed the first beginnings of the slogan launched by the martyred leader Hussein Badr al-Din al-Houthi more than twenty years ago in the hall of the Imam al-Hadi in the highest mountains of Maran.
It explained the reasons that prompted the martyred leader to launch the Al-Sarkah slogan after September 11 and the American invasion of Iraq and Afghanistan under the pretext of combating terrorism, pointing to the importance of the economic boycott as an effective weapon in the face of enemies.