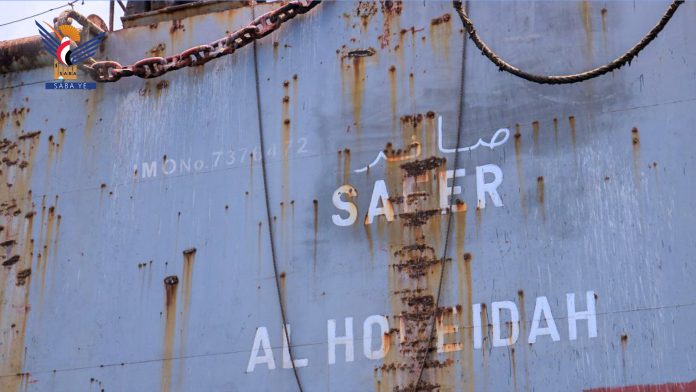 Dutch ship arrived at Ras Issa port in Al Hodeida province, to rescue and maintain Safer ship, as part of the measures taken to secure the floating tank and work to avoid an oil spill in Red Sea.
Upon the arrival of the ship and the Dutch maintenance team, the supervisory committee for the implementation of the urgent maintenance agreement and comprehensive evaluation of the floating tank held a press conference.
In the presence of local and international media, to review the latest developments related to the efforts made in coordination with the international side to accelerate the process of securing and unloading Safer ship.
During the conference, the Deputy Minister of Foreign Affairs, Hussein Al-Ezzi, praised the role of the Safer Committee, and its extensive efforts and strides in securing Safer ship, and reaching effective solutions to save the tanker despite the critical challenges facing these efforts.
He stressed that the Supreme Political Council and the National Salvation Government are keen to implement all necessary steps to facilitate and expedite the rescue of Safer ship, to carry out the process of unloading its oil, before an environmental disaster occurs, to ensure safe transportation, and to avoid any oil leakage or spillage.
For his part, the head of the supervisory committee for the implementation of the urgent maintenance agreement and the comprehensive evaluation of the floating tank, Zaid Al-Washli, explained that a Dutch ship was received to rescue and maintain the Safer ship, which is in Ras Issa port, within the framework of what the United Nations team is doing to address the current situation of the ship.
He stated that the committee is currently working on arranging with the United Nations team regarding a plan to unload the amount of oil from the Safer ship and save it from dangers. As a result of the systematic damage it suffered, which led to its systems being out of service. As a result of preventing its maintenance, laying off its technical staff, and preventing the arrival of diesel fuel for its engines
Al-Washli touched on the committee's steps and efforts in coordination and communication with the United Nations in the interest of securing Safer ship, working on the safety and security of navigational activity, and the safety of the marine environment in the territorial waters of the Red Sea.
While the Resident Coordinator of the United Nations and Humanitarian Affairs in Yemen, William David Gresley, touched on the steps that have been taken regarding Safer ship, stressing that work to secure Safer ship will take place in four stages including unloading oil from the reservoir, whose imminent collapse threatens a large-scale economic, humanitarian and environmental catastrophe in the Red Sea.