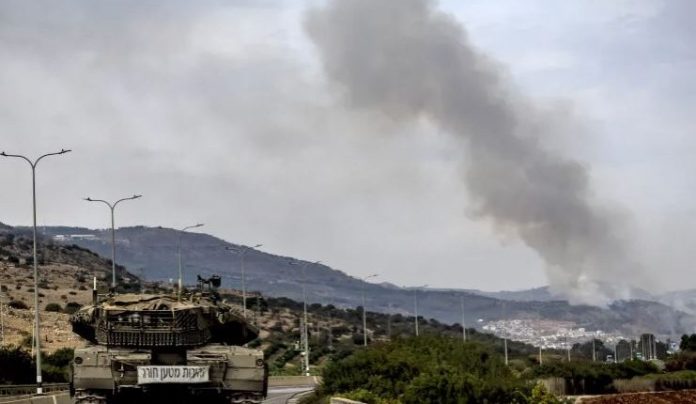 The Islamic Resistance in Lebanon, Hezbollah, on Friday, carried out qualitative operations targeting  sites and gatherings of Israeli occupation soldiers in about sevenwithin the battle of the "Al-Aqsa flood" in southern Lebanon on the Palestinian border.
In successive statements this evening, Hezbollah said that its fighters targeted gatherings of the Israeli occupation soldiers in each of " the Triangle of Al-Tayhat, the Al-Marj site, the Ramim barracks (in the occupied Lebanese village of Hounin), the Al-Malikiya site, the settlement of "Yar'oun" (the occupied Lebanese village of Salha), and the Dhairah site," achieving direct hits.
According to Hezbollah's statements, these operations come "in support of our steadfast Palestinian people in the Gaza Strip and in support of their brave and honorable resistance."
Meanwhile, Lebanese media sources had previously reported the launch of large rocket barrages from Lebanon towards the Israeli occupation sites in the Western Galilee, in addition to a combing operation with bullets from the Israeli "Malikiyah" site, towards the vicinity of the neighboring Lebanese villages.
A guided missile was fired at an "Israeli" military target between the settlement of "Arab Al-Aramsheh", and the "Al-Jardah" site. Smoke seen rising from the site of "Al-Jardah" after hearing the sound of an explosion, according to the Lebanese media sources.
According to Israeli media, the entire western Galilee region has been closed because all its settlements are within range of Hezbollah fire.
The Israeli occupation forces renewed bombing on the outskirts of the town of Aitaroun, the towns of Yareen and Al-Jebbain in the western sector, and the village of Duhaira.