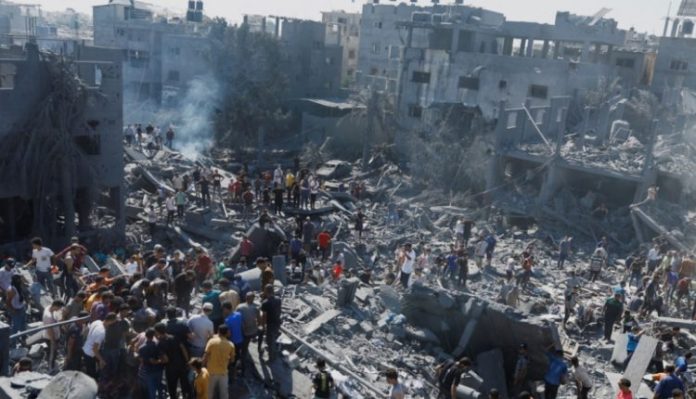 Israeli occupation warplanes launched a series of airstrikes targeting several apartments in Khan Younis in the Gaza Strip at dawn on Saturday, killing at least 26 Palestinians, most of them children, the official Palestinian Wafa news agency reported, citing local sources.
According to the sources, the occupation aircraft launched several consecutive air raids on apartments in Hamad Residential Town in Khan Yunis, which led to the killing of 26 citizens, most of them children, and the injury of dozens.
Israeli warplanes also launched heavy airstrikes near the vicinity of the Indonesian Hospital in northern Gaza, in conjunction with heavy artillery shelling on the eastern region, and also shelled Jabalia camp in the northern Gaza Strip, killing and wounding several citizens.
In the southern Gaza Strip, the occupation warplanes waged airstrikes targeting a house belonging to the Abu Hilal family in the Al-Geneina neighborhood, east of Rafah, killing many civilians. The dead were taken to Al-Najjar Hospital.