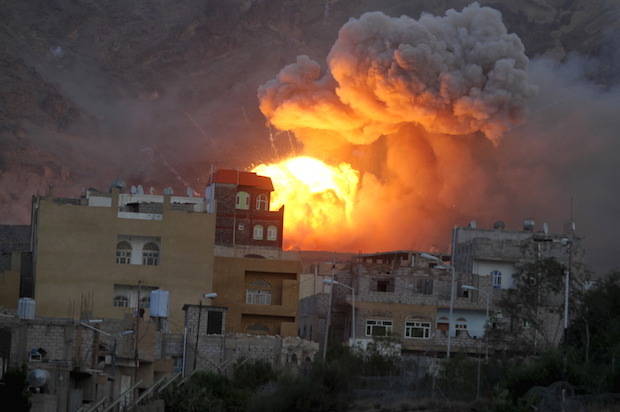 Al-Thawra Net
The American news website (Salon) reported on Monday 25th  that congressmen in both chambers introduced legislation to halt U.S. air-to-ground munitions sales to the Saudi Arabia.
Ben Norton, a politics staff writer at Salon, said "lawmakers from both sides of the aisle and both chambers of Congress are concerned about the U.S. government's support for the Saudi war in Yemen, and have introduced legislation in hopes of protecting human rights."
"Congressmen Ted Lieu and Ted Yoho have introduced a joint bill in the House that would bar the sale of certain U.S. weapons to Saudi Arabia," Norton said.
H.J. Res 90, a constitutional amendment, would put limit the transfer of air-to-ground munitions to the Saudi monarchy, until the kingdom can demonstrate that it is taking "all feasible precautions" not to harm civilians and making "demonstrable efforts to facilitate the flow of critical humanitarian aid." The legislation is the House companion to (S.J. Res. 32) a constitutional amendment, which was introduced by Senators Chris Murphy (D-CT) and Rand Paul (R-KY), according to Salon report.
Lieu, who served on active duty in the U.S. Air Force and taught the law of armed conflict, says he is pushing for legislative action because his other attempts at voicing concern about U.S. support for the war in Yemen fell on deaf ears.
"Since last year, I have been asking the administration about the Saudi-led coalition's actions in Yemen and the dropping of bombs on civilians nowhere near military targets," Lieu explained in an interview with Salon.
"I have been given answers that turned out, apparently, not to be true," he said. "We see a continuation of the bombing in Yemen of civilians, including the use of cluster bombs, by the Saudi-led coalition. And these are provided by the United States."
Norton said "Saudi-led forces have brutally bombed civilian areas, including hospitals, schools, residential neighborhoods, refugee camps and an Oxfam aid warehouse." He added that according to United Nation, human rights organizations have accused both sides of committing war crimes, but the coalition is responsible for approximately two-thirds of civilian casualties and property damage.
Lieu, a Democrat representing Los Angeles, has been one of the few U.S. politicians to publicly raise concerns about U.S. support for the ongoing war.
Norton reported that in March, he sent a letter Secretary of State John Kerry and Secretary of Defense Ash Carter, requesting that the Departments of State and Defense "provide an assessment as to whether the indiscriminate nature of the coalition's operations and the targeting of civilians have significantly changed since October 2015." Lieu says he has not received a response. Salon inquired in March as well, and did not receive a reply.
"It's not as if I asked a long and complicated series of questions," Lieu said in frustration. "They were fairly straightforward questions."
In September, Lieu sent another letter to the chairman of the Joint Chiefs of Staff, Gen. Joseph Dunford, expressing concerns about the heavy civilian toll of coalition airstrike and requesting that the U.S. "cease aiding coalition airstrikes in Yemen until the coalition demonstrates that they will institute proper safeguards to prevent civilian deaths."
Lieu told Salon "Because I have not been given any assurances that this bombing is going to stop, I think it is now important to introduce legislation to cause it to stop or at least to not continue with U.S. involvement."
"The bill's co-sponsor, Yoho, a Republican representing Florida, also voiced concern about the apparent lack of attention the Saudi-led coalition has paid to the growing threats of extremist groups like ISIS and al-Qaeda, the latter of which has exploited the chaos in Yemen in order to carve out a 340-mile territory on the country's southern coast, where it now collects taxes," Salon reported.
Renowned journalist and Middle East specialist Patrick Cockburn, among others, has warned that "the U.S. and U.K. have opened the door to an al-Qaeda mini-state."
"I am pleased that this legislation is both bipartisan and bicameral, and I think it shows that Congress is now starting to take an active interest in the situation in Yemen," he told Salon.
He added "I think because the actions of the Saudi-led coalition in Yemen, based on reports, have been so horrific when it comes to civilians, that you now do have greater interest by members of Congress to try to put a stop to their indiscriminate killing of civilians."
Salon also mentioned that the bill the congressmen proposed cites a U.N. report by a panel of experts, which found that the U.S.-backed, Saudi-led military coalition in Yemen "had conducted air strikes targeting civilians and civilian objects, in violation of International Humanitarian Law, including camps for internally displaced persons and refugees; civilian gatherings, including weddings; civilian vehicles, residential areas, medical facilities schools, mosques, markets, factories and food storage warehouses and other essential civilian infrastructure."