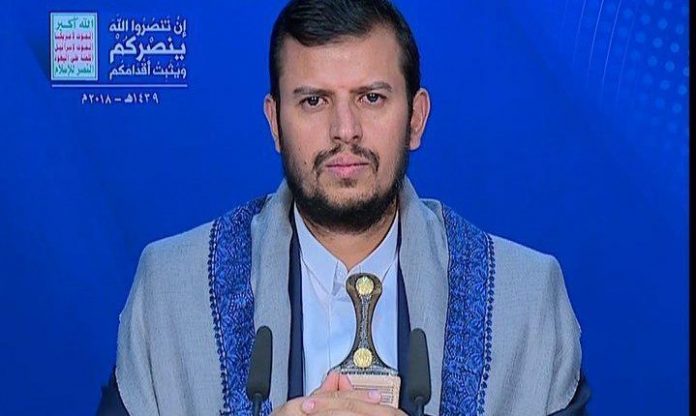 Al-Thawra Net
Leader of Ansaruallah Movement, Sayyed Abdulmalik al-Houthi revealed, in a televised speech aired on Al-Masirah TV on Saturday evening, that the US ambassador threatened to destroy the Yemeni currency.
"The US ambassador had already threatened the national negotiating delegation in Kuwait negotiations that if they do not accept his requests, the Yemeni currency will be worth less than the ink that is written on it," Sayyed al-Houthi said.
In his speech, Sayyed al-Houthi defended the requests of the national negotiation delegation to Geneva, describing them as natural and legitimate rights.
Sayyed al-Houthi noted that the US is the key dominant in the negotiations, confirming that " the Americans are not willing to stop this aggression (Saudi-led coalition war on Yemen) because they are benefiting from it greatly at the economic level."
He stressed that "the US has a major role in the aggression on Yemen," and despite of that the disasters and crimes are calculated on the Saudi and Emirati regimes, while the American presents himself as a sponsor of peace.
The Ansaruallah leader said that the economic war is a major part of the war on Yemen and its people.
He affirmed that the Saudi-led coalition countries have worked to transfer the Central Bank from the capital Sanaa to Aden, and were keen to occupy the Yemeni oil-rich areas in Marib, Shabwa and Hadramout provinces.
"The aggression states took control of the land crossings, surrounded the airspace and prevented the wounded, sick and even ordinary travelers from leaving Yemen," he said.
He added that the coalition countries imposed siege on the port of Hodeidah, controlled its revenues, and put conditions on what reaches it.
Concluding his speech, Sayyed al-Houthi called on the Yemeni people to stand firm in the face of the challenges that the coalition leadership seeks to impose at all levels.
He reiterated that "confronting the aggression is an unavoidable choice because it represents a responsible and correct attitude."