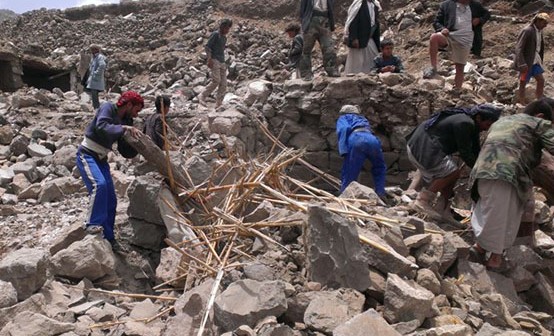 The aggression forces continued to violate the ceasefire agreement in Hodeidah governorate, using various types of weapons, while the aggression warplanes launched a series of raids on the governorates of Sana'a and Sa'ada during the past 24 hours.
A security source said that an artillery bombardment of mercenaries targeted residential neighborhoods in the 50th Street in Hodeidah city, and similar shelling also targeted a citizen farm in Al-Tahita district.
The source said that a military bulldozer for the aggression forces had developed combat fortifications in the Upper Jah district of the Beit Al-Faqih district, and artillery shelling of the aggression forces targeted the villages of Al-Shujan and Al-Dafash in the outskirts of the besieged Al-Duraihmi district.
The source pointed out  that a Saudi missile and artillery bombardment targeted populated villages in the border district of Razih in Sa'ada Governorate.
The source pointed out that the aggression launched three raids on the Nehim district of Sana'a governorate and Al-Jawf junction.
The source said that two girls at a children's school were injured after being shot by  snipers at Sabr Al-Mawadim District in Taiz Governorate. The source pointed out that they were transferred to the Hospital in Ibb Province.
The source condemned the continuation of the American-Saudi-Emirati aggression alliance and traitors in violation of the ceasefire agreement and targeting civilians and populated areas in Hodeidah and the various governorates in light of a defective international silence.