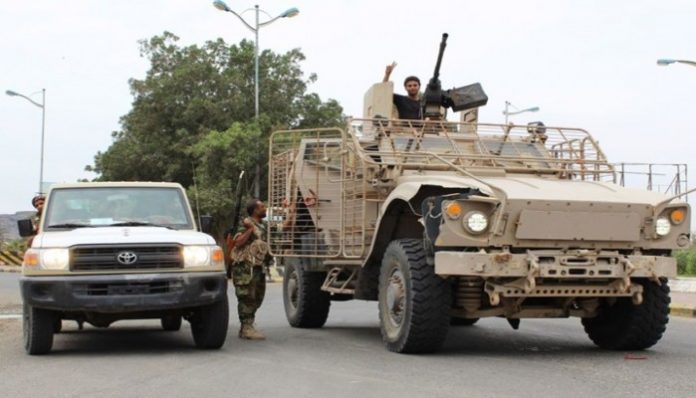 The newly-recruited southern military forces on Thursday decided to raise its combat readiness in the Yemeni port city of Aden, citing soaring tension with the government forces.
"The newly-recruited southern forces announced the lifting of the combat readiness of some military units in view of the escalating situation in Aden," a senior military official based in Aden said on condition of anonymity.
"High-ranking military commanders of the pro-secession southern forces attended a closed meeting and decided to begin military preparations to defend their lands," he added.
Witnesses said heavy forces backed by armored vehicles were deployed across the streets and around the main entrances leading to the strategic port city of Aden.
The recent tension is set to escalate after Saudi Arabia prevented senior southern political leaders from returning to Aden on Thursday.
Officials of the Aden-based Southern Transitional Council (STC) that signed a Saudi-brokered peace deal last year with the internationally-recognized government to end a power struggle were also blocked from returning to Aden.
The Saudi-brokered deal that included forming a new power-sharing government equally between the two warring rivals was not fully implemented, causing the tension to escalate in the country's southern provinces.
The STC, a key ally of the Saudi-led Arab coalition, released a press statement through their media outlets to protest the Saudi decision to prevent the southern leaders from returning to Aden.
"Blocking the southern leaders from returning to Aden was a dangerous precedent that could trigger a popular uprising in the south which would be devastating," the statement said.
Earlier in the day, Saudi Arabia urged all parties of the Riyadh Agreement to work together for the best interests of Yemenis, the Saudi Press Agency (SPA) reported.
In a statement carried by the SPA, the Saudi Foreign Ministry said the parties should work to implement the agreement giving priority to the higher interests with a sense of their national responsibility.
Last year, Saudi Arabia persuaded the STC and the Yemeni government to hold reconciliation talks, which reached a deal to form a new technocrat cabinet of no more than 24 ministers.
The deal also included the return of the exiled Yemeni government to Aden and the unification of all military units under the authority of the country's interior and defense ministries.
The Saudi-brokered deal excluded the Iran-backed Houthis who are still controlling the capital Sanaa and other northern provinces of the war-torn Arab country.