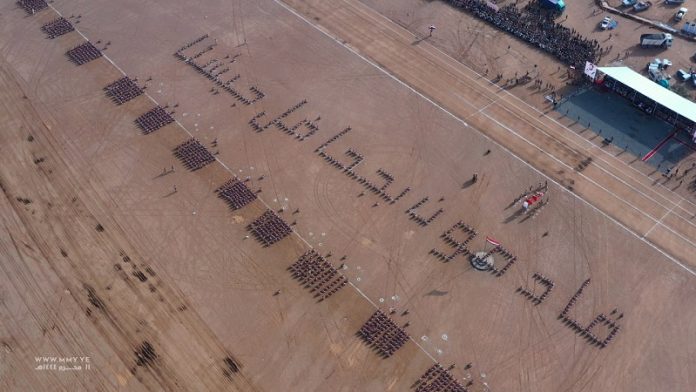 The Sixth Military Region celebrated the graduation of a new batch of its members, "We Will Punish Criminals" batch.
At the ceremony, member of the Supreme Political Council Mohammad Ali Al-Houthi praised the efforts of the leadership of the Ministry of Defense and the Sixth Military District for what he touched during the military parade. "It showed the extent of the strength and the supreme readiness of the Army and Popular Committees."
"With these heroes, men of the 4th, 5th, 6th, Central, Border Guards, and all military regions, we will confront you and challenge you, because you are bands of evil and forces of tyranny," Al-Houthi said addressing the forces of aggression.
"These heroes did not come to show off at the ceremony, but rather to announce the readiness to defend their people," he added.
Addressing his speech to the forces of aggression, the Supreme Political member continued, "You will be overpowered and subdued, and everything you spent and what you gave will be a disaster for you."
"Are you defying a people who Al-Quds is their compass and they want to liberate the honorable Al-Aqsa? So how do you defy such heroic men?" he added.
He pointed out that these heroes will remember the honor and courage of Hussein in the Karbala incident, and they will remember the lessons of all the martyrs, including the martyr leader Hussein Badr Al-Din Al-Houthi and the martyr President Saleh Al-Sammad.
He praised the positions of the Yemeni tribe, which proved its originality, loftiness, pride and strength in the field, stressing that the Yemeni tribe united to confront the arrogant enemy.
The ceremony included a speech by the graduates, and a majestic military parade, reflecting the high skills and arts acquired by the graduates that reflect their high preparation for the upcoming field developments.