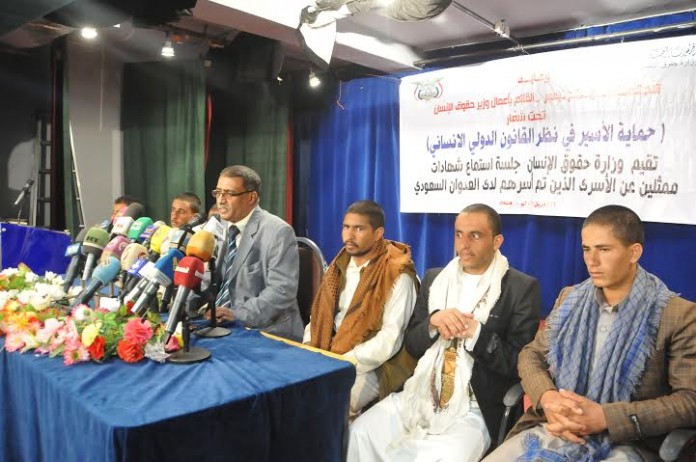 Al-Thawra Net
Ali Tisser, acting minister of Human Rights, revealed that there are many captives were being tortured by Saudi-led coalition aggression before the captives swap on March 28th.
Tisser said "captives had been physical and psychological tortured by Saudi aggression in Khamis Mushait during the seven months."   He added that captives role is great in their homeland defense and stability.
"The torture they had is against international laws and the Geneva Convention on the treatment of captives," Tisser added.
According to some captives in the hearing testimony organized by the Ministry of Human Rights, on April 11th , under the slogan (Protection captive in international humanitarian law perspective) " we were captured in Marib by mercenaries after being blocked for ten days and running out of ammunition and food supplies."
"Then, there was a negotiations in Safer about the price that Saudi aggression would give the mercenaries to hand us over," captives said. They added" Before they sent us to Khamis Mushait , we were tortured for 3 days in Sharora area and the injured from us didn't have any treatment."
Some captives in their testimony explained that they were beaten during the questioning , subjected to electric shocks, and they doubted about our religion belonging.
The captives pointed out that "we  were starving and they put poisonous substances into our little meal that led to diarrhea." They added that then they were punished by standing for two hours after each meal and they were allowed to go to the toilet only three times.