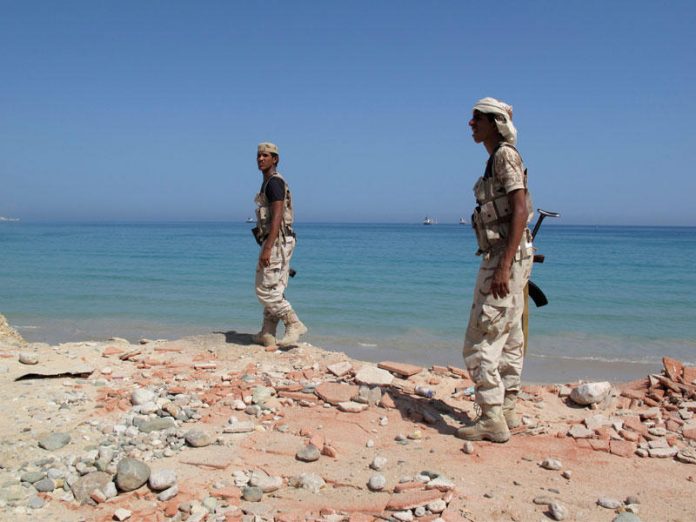 Al-Thawra Net
Security sources close to the invading UAE forces to the southern provinces, the proxy militia of the UAE and the militia of the fugitive Hadi begun field arrangements to mobilize the other factions of the armed militia and pro- Hadi to push them to fight on the coastal fronts and the northern fronts and only one of the presidential protection brigade among the brigades managed to protect the Palace of al-Ma'ashiq in Aden.
The sources told al-Thawra that the arrangements included moving the troops stationed in many of the camps of the fugitive Hadi and the camps run by the proxy militia known as "security belt" as well as the secret camps active in the southern provinces, which are run by terrorist organizations supported by the UAE and Saudi regimes In the provinces of Aden, Lahj, Abyan and Hadramout.
The same sources noted that orders issued by the invading forces of the United Arab Emirates (UAE) to mobilize and put them on the fronts of Mokh, Taiz and border front areas in Sa'da and Hajjah provinces.
The sources also revealed that the Saudi-Emirati aggression coalition and the fugitive Hadi are seeking this step to "move the deadlock which has accompanied the performance of mercenary battalions during the past period and reinforced the enemy battalions, particularly in the fronts that have seen major setbacks during the past period, particularly in the coastal fronts of Taiz and Hajjah provinces , which were the scene of violent battles over the past period in which the coalition of aggression and mercenaries has suffered enormous human and material losses.
According to sources, the Saudi-Emirati aggression coalition has begun to equip dozens of vehicles, tanks and artillery from vehicles and large quantities of weapons and ammunition to be deployed on these fronts to support the new mercenary battalions expected to be deployed on the Taiz fronts and mercenary camps run by the Saudi regime in its territory on the Saudi side of the border of Sa'ada and Hajja provinces.
These arrangements led to widespread criticism among activists from the southern provinces who denounced the continuation of the aggression forces to incite the sons of the southern provinces to the Holocaust, pointing to the intent of the ruling families in the UAE and Saudi Arabia to exploit the difficult living conditions of Yemenis, especially in the occupied provinces, An attempt to implement their agendas and subversive agendas.
Activists warned the Saudi aggression countries of the dangers of implicating the people of the southern provinces in their absurd wars, reminding the Saudi aggression of the massacres that faced the brigades of aggression and mercenaries over the past hours, publishing the names and identities of more than 30 officers and recruits who have been killed in the past hours on the fronts as well as the names of dozens of wounded.