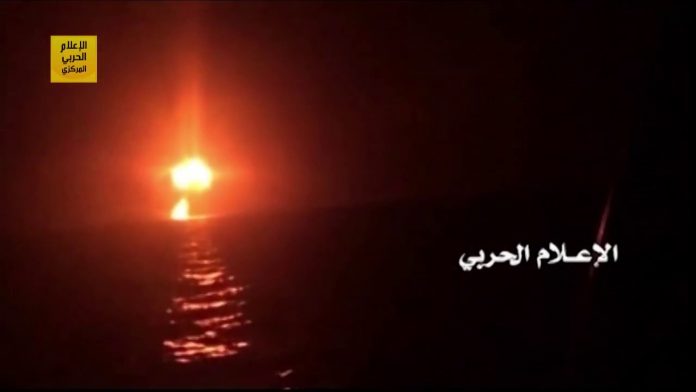 Al-Thawra Net
A qualitative naval operation carried out by the Yemeni army and the Popular Committees yesterday night on the coastal front. The Yemeni Navy and coastal defense forces announced that  warship belongs  to the Saudi  led coalition Aggression  was targeted  in coast of Mokha in Taiz province.
" This is the second  qualitative operation carried out by the Yemeni naval force within 10 days," The Yemeni naval force confirmed.
The Yemeni naval force clarified in a brief statement on the operation that the targeting of the warship Aggression was carried out while the warship  attempted  to carry out a landing operation in Mokha in Taiz province.
The statement pointed out that the naval force  used an appropriate weapon in intercepting the vessel and it was seen directly hit
" The military operation of the Yemeni naval force yesterday included a very clear message to the aggression countries of the level of our forces and the capabilities that they possess on the South West Coast fronts," according to observers .
The Minister of Defense Gen.  Mohammad Nasser al-Atifi  considered this qualitative and professional achievement  another victory for the comprehensive strategy of the armed forces and combat brigades .
The Minister stressed that the new military equation will allow the Yemeni armed forces to carry out offensive and qualitative operations  against vital and important combat targets which will paralyze the effectiveness and neutralize the strategic bases of the hostile aggression .