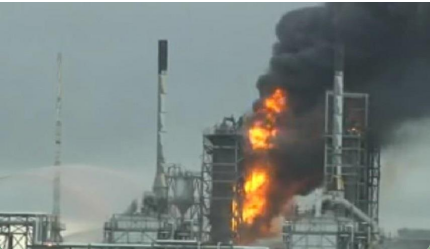 Friday's Yemeni drone attack has resulted in a massive fire, Saudi media reported, citing Saudi Arabia's Ministry of Energy.
The Saudi Ministry of Energy confirmed earlier that a huge fire broke out at the refinery in Riyadh at 6:05 AM on Friday, as a result of a large-scale military operation carried out by the drone aircraft.
Earlier in the day, Brigadier General Yahya Sare'e, the military spokesman of the Yemeni Armed Forces, announced the implementation of a military operation targeting the Saudi Aramco Company in the Saudi capital of Riyadh, using six drones.
Yahya Sare'e also renewed his calls on foreign companies and civilians to completely avoid any presence near Saudi military and other vital targets.