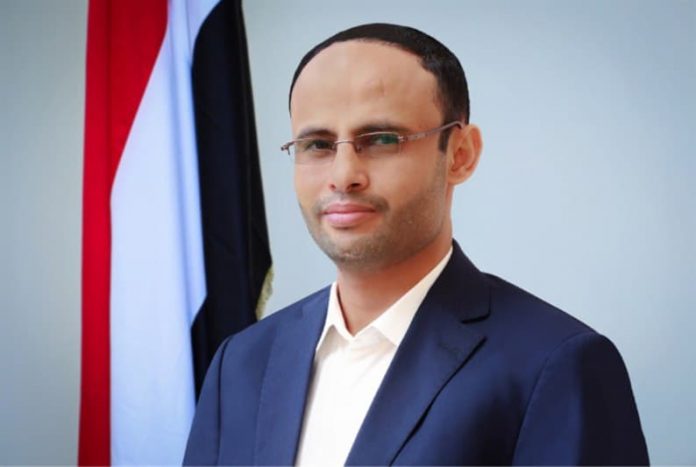 President Mahdi Al-Mashat has offered his sincere congratulations and blessings to the Yemeni people, the Leader of the Revolution Sayyed Abdulmalik Al-Houthi, scholars, leaders of parties, Army and Popular Committees, Armed Forces, security, government, members of the Parliament, loyal tribes, fighters and honorable people on the occasion of Eid al-Adha.
In a televised speech on Monday evening, President Al-Mashat said: "The oppressors of our nation have sought to spoil our occasions, holidays and the joy of our children by what they have done in our country of tragedies, war, siege and destruction."
President Al-Mashat congratulated the Yemeni people for the great victory achieved by the Army and Popular Committees on all fronts, the last of which was the great victory over Al-Qaeda and Daesh in Bayda province.
President Al-Mashat condemned the increasing support for al-Qaeda and ISIS elements with money and weapons, and attempts to resettle them in both Marib and Bayda provinces.
He denounced the silence of the international community regarding the criminal practices of Al-Qaeda and Daesh, the latest of which was the execution of the two captives and the continued support of these terrorists by the coalition of aggression. He noted that the international community continues to deny the will and rights of our people and the war crimes against humanity and the unjust siege.
President Al-Mashat called on the United Nations and the international community to review their positions towards Yemen and to stop the policy of double standards in dealing with war and peace in Yemen.
He blamed everyone who condemns our right to defense or accuses us of prolonging the war as long as the war against us continues.
"No one has the right to blame us or condemn our right to defend our country and our people as long as the aggression and siege continues," he said.
He stressed keenness on a just and sustainable peace and launching serious negotiations on the basis of lifting the siege, stopping the aggression, ending the occupation and addressing the effects of the war.
He also strongly denounced the insistence on using siege and starvation as a weapon of war and negotiation as a war crime.
The President expressed his readiness for serious and sincere peace negotiations as soon as their practical and realistic indicators become available, foremost of which is lifting the siege on our oppressed Yemeni people.
He appreciated the positive role and good endeavors led by Sultanate of Oman, stressing sincere and serious support for all benevolent efforts to achieve a just and lasting peace.