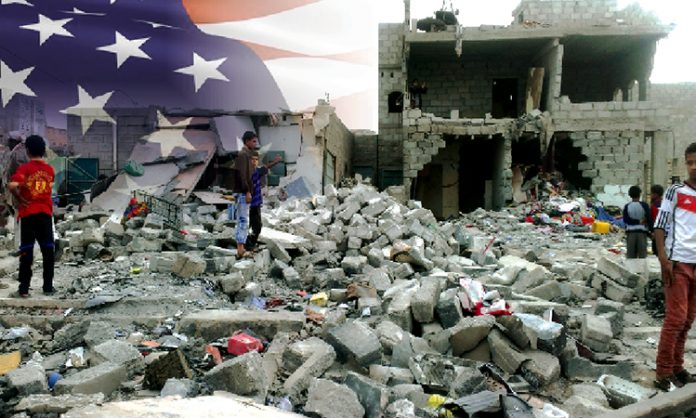 A report published by the New York Times on Tuesday said that the State Department and the Defense Department have failed to assess civilian casualties caused by a Saudi-led aggression in the catastrophic war in Yemen and the use of American-made weapons in the killings, according to an internal government report.
The report from the Government Accountability Office focuses on attacks in recent years by a Saudi-led aggression in Yemen. The alliance has carried out deadly strikes using combat jets and munitions that have been supplied and maintained largely by American companies with the approval of the State Department and the Pentagon.
The newspaper said that this report is the second major report by a US agency that lays out government shortcomings in preventing civilian casualties in Yemen. In August 2020, the State Department inspector general issued a report that said the department had failed to take proper measures to reduce civilian deaths.
According to the newspaper, the new report comes as President Biden is making plans to visit Saudi Arabia this summer. Biden aims to rebuild ties with the kingdom and Crown Prince Mohammed bin Salman despite vowing earlier to make the nation a "pariah" for its human rights atrocities, including the mass killings in Yemen and the murder of a journalist who was a US resident.
New York Times explained by saying that several officials said they were worried the State Department could hide important findings from the public through that process. In the case of the 2020 report that addressed civilian casualties, the State Department legal office under Mike Pompeo, the previous secretary of state, pressured the department's inspector general to put major findings into a classified annex. That section had heavy redactions that even members of Congress could not read.
The officials also pointed to a United Nations report that said 2021 was the third year in a row that civilian casualties from airstrikes had decreased. However, the report said civilian deaths from airstrikes surged at the end of last year.
Officials said the main finding in the new report was that the State Department and the Pentagon have failed to collect sufficient data and evidence on civilian casualties or monitor the use of American-made weapons.
In a previous investigation by the newspaper, the civilian casualties from the Saudi-led airstrikes were highest in the early years of the war. They began rising again a half-year ago, but have declined during a cease-fire that began in early April and was extended last Thursday.