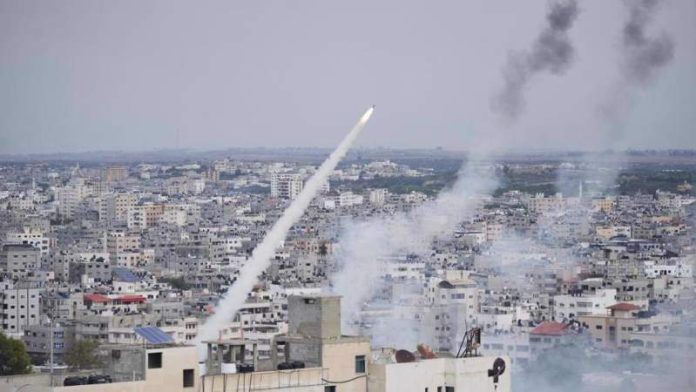 Resistance forces in Gaza continued retaliatory strikes against the Israeli occupation regime for the 42nd day, firing salvos of missiles deep into the Israeli-occupied territories.
The latest attacks targeted Tel Aviv and its surroundings in response to the Israeli massacres of civilians in the Gaza Strip.
Initial reports said five were injured as a result in Tel Aviv.
Sirens were also sounded in the settlements of Holit, Nirim, Kissufim and Sderot in the Gaza border region.
Meanwhile, reports say fierce fighting continues between resistance fighters and invading Israeli troops in northern Gaza.
Al-Quds Brigades, which is the military wing of the Islamic Jihad resistance movement, said it fired projectiles at three Israeli military vehicles west of Gaza City.
On Thursday night, Hamas' military wing, al-Qassam Brigades said it damaged or totally destroyed 21 Israeli military vehicles as well as a building housing the regime's forces in the northern city of Beit Hanoun.
Israeli military spokesman Daniel Haghari said on Friday they're determined to advance their operation, heightening concerns over Israel's warning to Palestinians in Khan Younis this week to evacuate their homes.
"We are determined to advance our operation. It will happen wherever Hamas exists, including in the south of the Strip," he said during a regular briefing.
"It will happen at the time, place, and conditions that are best for the military."
Hamas vowed on Thursday that the Palestinian resistance groups in the Gaza Strip are fully prepared for a prolonged confrontation with the Israeli military.
"If the [Zionist] enemy desires a long battle, our capacity is much higher than its, and that our resistance fighters will act decisively in this regard. The resistance is engaged in a strategic conflict with the Zionist enemy, and will be the sole party emerging victorious out of the Gaza war," said Ismail Haniyeh, head of the political bureau of Hamas, on Thursday.
The Hamas leader highlighted the "victories achieved by resistance fighters [in battles against Israeli forces] in the Gaza Strip," adding that "the heroes of the resistance are … delivering painful blows to the enemy's forces and its armored vehicles."
"They will reap nothing but more failures, disappointment, and defeat," Haniyeh underscored.
Source: Press TV