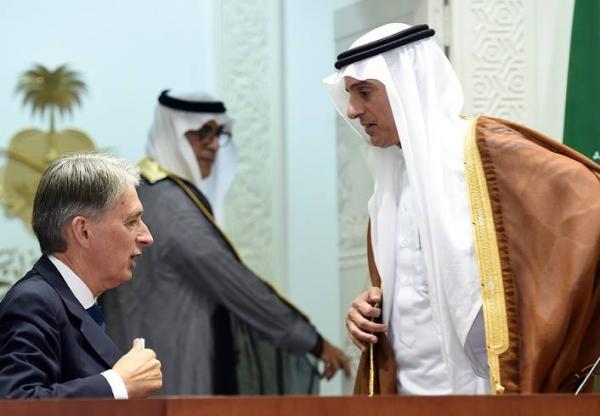 Al-Thawra Net
British Foreign Secretary's remarks in the Saudi capital on Sunday matched the expectations that were not counting on different developments of British policy that recently seemed to become more intransigent toward Yemen, and more supportive of the Saudi alliance as David Mepham, the Human Rights  Watch Director in the UK, wrote days ago.
Philip Hammond, the UK Foreign Secretary, who visited Jeddah on Sunday at the Gulf tour, stated during a joint press conference with his Saudi counterpart Adel al-Jubeir comments were "less than normal" about Yemen, as a reporter expressed. However, the media market to visit and talks designed to work on "accelerated steps to reach a political solution and end the war."
Hammond also said that the Yemeni peace negotiations in Kuwait  is in progress and reiterated that "the only solution to resolve the crisis in Yemen  is a political solution."
According to Agency France-Press (AFP), Hammond said "we all have to continue to work for a settlement and there is no military alternative to a political settlement in Yemen."
Amnesty and Human Rights Watch renewed accusations of using  banned cluster bombs and weapons British-made by the Saudi coalition aircraft  that killed civilians in Yemen. To be mentioned, the British Ministry of Defense, last week, opened an urgent investigation into the use of British arms.
Though Hammond himself as usual suspected on the validity of the reports and said that the Saudis gave assurances in this investigation. Cameron's government rejects  the calls for a freeze on arm sale to Saudi Arabia and the investigation of  violations crimes in Yemen.