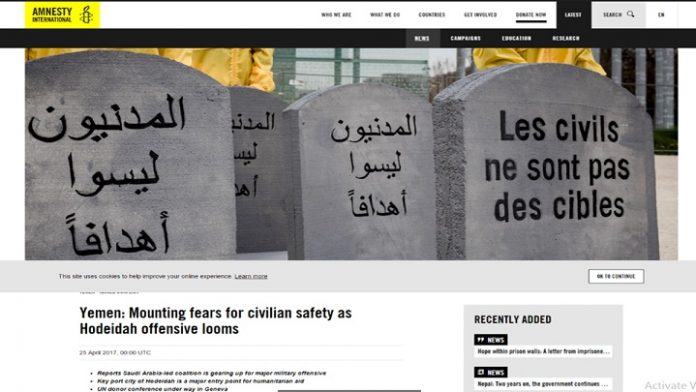 Amnesty International warned of the effects of the military escalation of the US-Saudi aggression on the western coast of Yemen on civilians  that escaped the areas of escalation .
The attacks  by coalition forces has displaced tens of thousands of civilians from the western province of Hodeidah .
It also warned against the consequences of "worse" if the war reached the urban areas controlled by Ansur Allah .
In a report published  by the organization confirmed that it interviewed 34 people displaced from several villages and towns in the province of Hodeidah between January and early May, spoke of "horrific attacks" mortar shells, as well as air strikes, mines and other dangerous weapons .
The human impact of this new military attack on Yemen's western coastal areas is evident in the painful stories of civilians displaced by the conflict and that the accounts of the displaced are "a glimpse of what can happen," Amnesty International's senior adviser Rawi Rajeh said.
The international official, according to the Lebanese newspaper Al-Akhbar, expressed the organization's deep concern "about what appears to be indiscriminate attacks and other violations of international humanitarian law .
She Demanded  that "all parties commit themselves to do their utmost to provide protection to civilians the attacks endanger the lives and livelihoods of hundreds of thousands ."