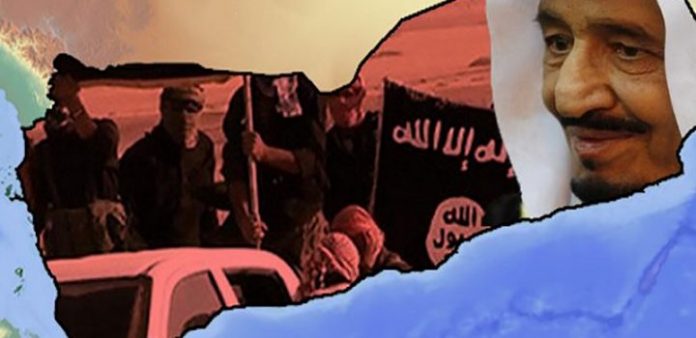 Al-Thawra Net
The Associated Press Agency has confirmed that The US-Saudi coalition on Yemen has reached many secret agreements with Al-Qaeda organization to join the coalition and participate in its coalition against the Yemeni people. Al Qaeda has gotten help and support of the US and its allies in Yemen. At times they got paid money for fighting and to pullout of their areas; they were moved to front lines with the Yemeni Army with under the cover of US forces.
"Over the past two years, a military coalition led by Saudi Arabia and backed by the United States has claimed it won decisive victories that drove al-Qaida militants from their strongholds across Yemen. But in fact, the coalition cut secret deals with al-Qaida fighters, paying some to leave key cities and towns and letting others retreat with weapons, equipment and wads of looted cash."
The Associated Press investigation also revealed that the Saudi-UAE alliance deal with al-Qaeda also included an agreement with some of the organization's militants to join the alliance itself.
According to the US agency, these "compromises and alliances between the coalition and al-Qaeda allowed the latter to continue the ability to fight to this day and threatens to strengthen the most dangerous branch of al Qaeda, which carried out the attacks of September 11, 2001.
The deal, according to the agency, says the United States was aware of the arrangements and held off on any drone strikes, in the regions and against the militants with whom the deals are being conducted.
Coalition-backed militias actively recruit al-Qaida militants, or those who were recently members, because they're considered exceptional fighters, the AP found. Shamiri, a former official in Taiz, warned that it would be difficult to get rid of al Qaeda, saying that "Taiz is in danger, we will get rid of Ansarullah and we will be stuck with terrorist groups."
The first agreement between the aggression coalition and al-Qaeda in the spring 2016, allowed the withdrawal of thousands of fighters from the extremist from Mukalla city in Hadramout. They were given a "safe route to withdraw, allowed to keep their weapons, and about $ 100 million they plundered it from the city."
Two days after the withdrawal, coalition-backed forces entered Mukalla, announcing that hundreds of al-Qaeda elements had been killed, no witnesses reported militants killed, however. "We woke up one day and al-Qaida had vanished without a fight," a local journalist said, speaking to AP on condition of anonymity for fear of reprisals.
Mint Press agency revealed in a report last month that the brigade of the Al-Qaeda is a component of al-Qaeda and ISIS working under the direct supervision of Emirati officers.
Source: al-masirah.net