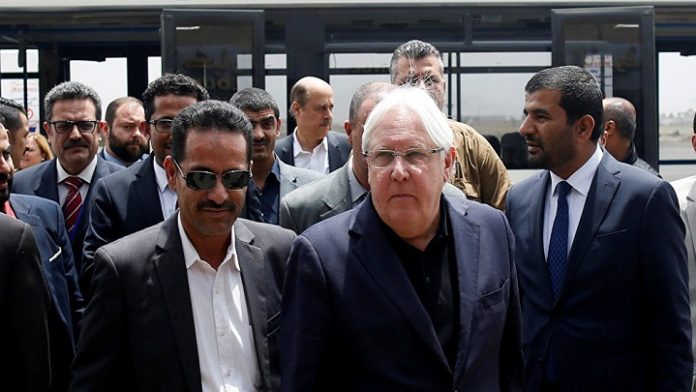 Al-Thawra Net
The UN- Special Envoy to Yemen, Martin Griffiths, said that his visit to the Hodeidah governorate comes as a clear message, expressing the UN and the world interest in Hodeidah and the importance of its port.
It is critical for the Port of Hodeidah to remain operational, helping the flow and delivery of humanitarian assistance to the citizens.
In a press conference held today at a port of Hodeidah in the presence of acting governor of Hodeidah, the UN envoy said that "I will work with the world to spare the city of Hodeidah of any military confrontations or casualties in its infrastructure and service."
Griffiths pointed out that there is a desire to achieve peace in Yemen from all parties.
"The world is interested in the parties sitting at the negotiating table and achieving peace in Yemen quickly in order to end the suffering of the Yemeni people caused by this war," he explained.
The UN envoy to Yemen, saw the amount of damage suffered by the port of Hodeidah and its infrastructure of cranes by the bombing of the US-Saudi aggression in 2015.
The officials briefed him on the damage as a result of the airstrikes that targeted the cranes and port berths and the direct economic effects of the siege imposed on the port by the coalition countries, and the suspension of maritime and commercial activity.
Officials pointed out that the port's activity is currently limited to receiving humanitarian aid vessels of international organizations and vessels for oil derivatives, but it is subjected to a thorough inspection before entering the port of Hodeidah.
For his part, Martin Griffiths discussed the solutions to neutralize the port of Hodeidah and keep it away from political and military conflict.
Source: Almasirah net