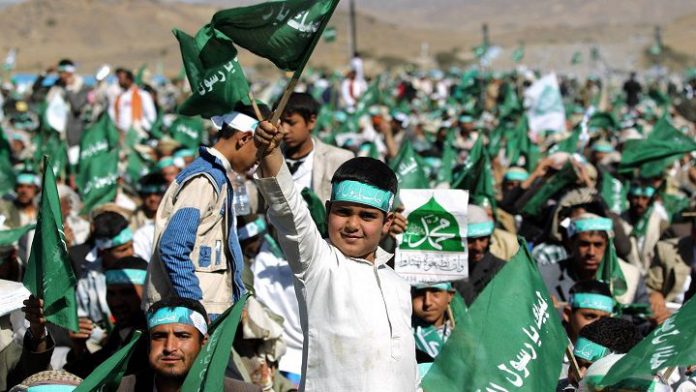 Al- Thawra Net
Millions of Yemenis are prepared to take part in mass rallies to commemorate Prophet Mohammed's birthday (peace be upon him) on Saturday afternoon in the capital Sanaa and the rest of the provinces.
The 70th square, as well as in 10 other squares in several provinces, will be poured this afternoon by the millions celebrating the birthday of the Islamic prophet Mohammed.
The organizing committee of the events called on the Yemeni people to go out large publicly to the squares specified in the capital Sana'a and the provinces to celebrate the prophet's birth on Saturday afternoon,
In Statement issued on Friday, the committee stressed the importance of participation in the celebrations to be held in the provinces of Saada, Hajjah, Hodeidah, Dhamar, Ibb, Taiz, Amran, Mahweit, Jawf, Bayda.
The organizing committee in the capital, Sana'a, called for the broad participation of men and women in the 70th square.
The official of the organizing and supervisory committee in the 70th Square Ali Al-Saqqaf confirmed that the committee has completed all arrangements inside and outside the arena and the organizing committees are ready.
"All aspects related to the technical, security, health and media work of television and voice transmission inside the square are complete," al-Saqqaf told Al- Masirah TV Channel.
"We are no longer separated from the event except our invitation to our people to participate in the big and honorable event on Saturday as we have returned to all the events," he added.
On Friday night, The Supreme of Political Council's Member Mohammed Ali Al-Houthi inspected the final preparations in the 70th square in the capital to mark the religious anniversary of the prophet's birthday.
During the visit, al-Houthi congratulated the leader of revolution Abdull Malik al-Houthi and members of the Supermen Political Council chaired by Mahdi al-Mashat.
Al-Houthi said that the Yemeni people feels great happiness commemorating the religious anniversary and revival the principles and values of the prophet Mohammed peace be upon him.
As a part of mass preparations, the Yemenis have their own way to celebrate the Prophet Mohammed's Birthday, Known as "Mawlid An-Nabawi".
They decorated their vehicles ahead of celebrations of the birthday of the Islamic Prophet Mohammad.
Most of all the streets of the capital Sana'a, are decorated with green lights.
During the night, all state facilities and buildings are illuminated with a green light. The atmosphere gives the walkers spirituality and tranquility.
Despite the difficult economic conditions that the Yemenis are going through as a result of the aggression and the siege imposed by the Saudi-led coalition, this did not prevent them from celebrating and commemorating this religious event.