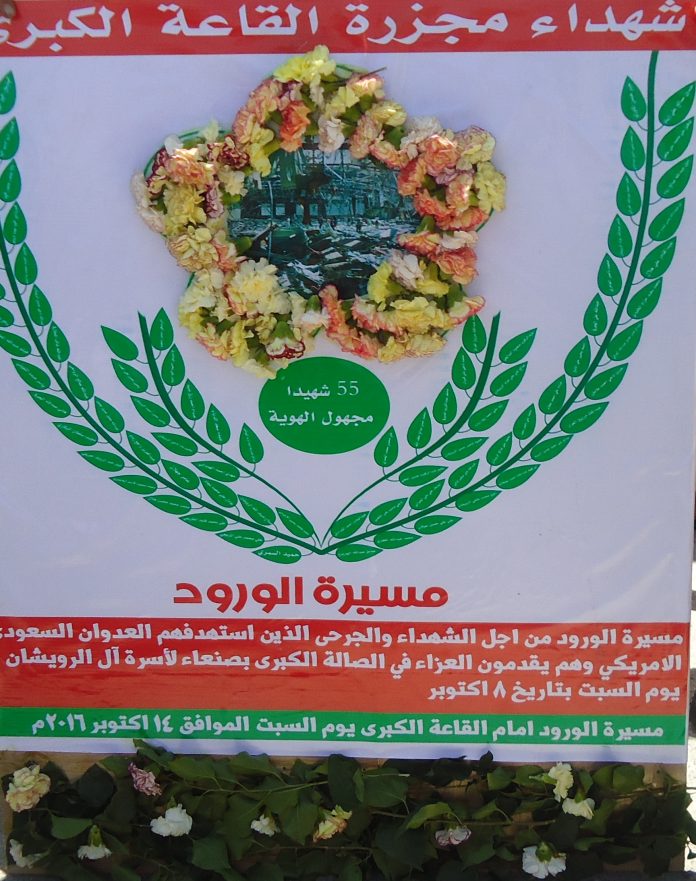 Al-Thawra Net
The families of the martyrs and wounded of the Saudi-led coalition massacre in the grand hall organized, today, a flowers march in front of the hall and laid wreaths asking Allah to grant mercy on their souls and give forbearance and solace to their families and relatives.
During the march, families of the victims said that the crime committed by the Saudi-led coalition is a war crime against humanity and will not be time-barred.
The Families denounced the most heinous crimes against the Yemeni people that committed by the Saudi-led coalition in full view of the United Nations, the international community and the Human Rights Council and its inability to take a decision to stop these crimes.
The march  statement demanded to stop the war crimes committed by the Saudi aggression against the Yemeni people and the need for the crimes  perpetrators accountable and do not escape punishment.
He called the United Nations, High Commissioner for Human Rights and international organizations to lift the blockade on Yemen and urgently transport the sick and wounded who need treatment abroad.