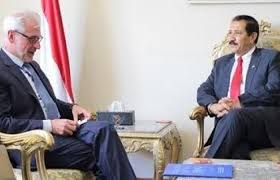 Al-Thawra Net
May 7th, the Foreign Minister Hisham Sharaf Abdullah met today the Resident Representative of the International Organization for Migration (IOM) official in Yemen Laurent De Boeck.
During the meeting, they discussed the humanitarian situation in Yemen, the efforts of the organization in this regard, and the threats of the Saudi-UAE aggression alliance towards the port and city of Hodeida, which will double the humanitarian disaster made by the Saudi-led coalition aggression.
The Minister confirmed that any escalation for Saudi-UAE aggression forces towards the Red Sea region would not only affect the humanitarian situation but would also affect the safety of the international navigation line in the South Red Sea and Bab Al- Mandeb regions.
He indicated that KSA, UAE and their allies are the main cause of any complications in that region.
"The appropriate solution for the humanitarian situation is stopping the aggression, lifting the blockade and the economic war imposed on Yemen in all its forms," the minister added
He also emphasized on the importance of the peaceful political solution that must be carried out through the Yemeni-Saudi negotiations.