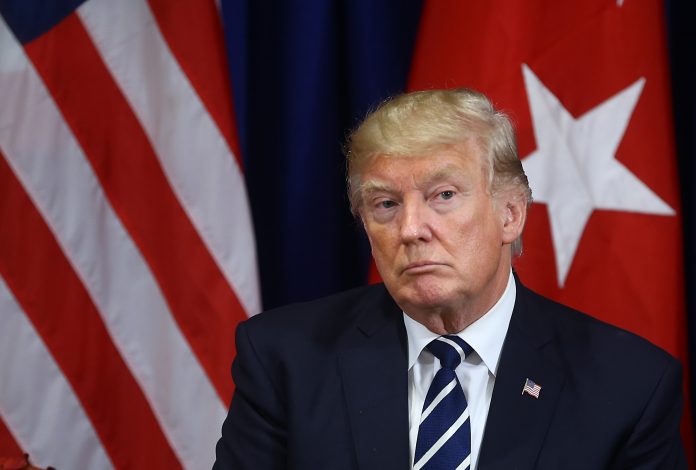 US President Donald Trump has rejected claims that he is a racist following his reported description of several nations as "shithole countries" during a White House meeting with lawmakers last week.
"No. I'm not a racist. I'm the least racist person you will ever interview," Trump told reporters on Sunday, according to a White House pool report.
Trump once again denied that that he made the racist remarks while talking about immigrants from certain Latin American and African countries during the Oval Office meeting on Thursday, where he reportedly asked why "people from shithole countries come to" the United States.
His contemptuous comments, which were about immigrants from El Salvador, Haiti and African countries, have provoked severe criticism in the US and abroad.
"Did you see what various senators in the room said about my comments? They were not made," Trump said.
The White House initially did not deny the comment but said the president supports an immigration policy that welcomes "those who can contribute to our society."
But then Trump tweeted on Friday that he did not say "anything derogatory about Haitians."
"Never said anything derogatory about Haitians other than Haiti is, obviously, a very poor and troubled country. Never said 'take them out.' Made up by Dems," he tweeted.
Despite Trump's denials, several lawmakers who attended the White House meeting including Senator Dick Durbin (D-Ill.), however, maintained that the president made the disparaging remarks.
On Friday, a US federal judge ruled that Trump's plan to end and the Obama-era program that protects young immigrants from deportation was racially motivated.
US District Court Judge William Alsup wrote that it is "plausible" that Trump shut down the Deferred Action for Childhood Arrivals (DACA) program for racial reasons.
On Sunday, Trump told reporters that he wanted to reach a deal on DACA, but accused Democrats of not wanting to make a deal.
"We are ready willing and able to make a deal on DACA, but I don't think the Democrats want to make a deal. The folks from DACA should know the Democrats are the ones that aren't going to make a deal," he said when asked whether they may be able to reach a deal.
Congressman John Lewis suggested on Friday that racism runs in the family of Trump.
"I think the words and his actions tend to speak like one who knows something about being a racist," Representative John Lewis (D-Ga.) said told MSNBC interview.
"It must be in his DNA, in his makeup, but it's frightening to have someone in the office of the president in 2018 speaking the way that he's speaking," he added.
Meanwhile, American political analyst and former congressional staffer Rodney Martin revealed that Trump's father, Fred Trump, was a member of Ku Klux Klan, a white supremacist group also known as the KKK which advocates extremist reactionary positions such as white supremacy, white nationalism, and anti-immigration.
"Trump's father was once arrested in 1927 with a large group of Klansmen in a demonstration in New York City, which begs the question, why was he there and in that group?" Martin told Press TV.
He added that once Trump "paid for full paid Ads in The New York Times calling for the hanging of 5 black teenagers who were falsely accused of assaulting a white girl, they were proven innocent, yet Trump continued to pay for the Ads, never apologized and continued to personally attack the young men and to this day will not admit he was wrong."
Source Websites