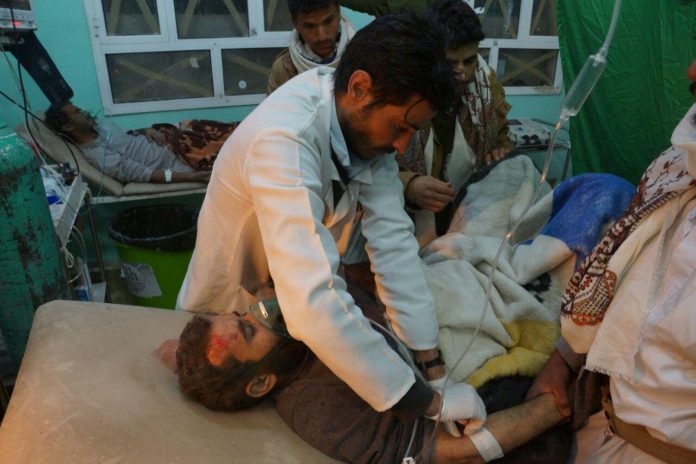 The Saudi  air force launched  33 raids aimed at citizens and their property in a number of governorates, killing and injuring 28 citizens, including women and children .
A military source told SABA  that the air force launched three raids on the home of a citizen in the district of the Sahar in  Sa'ada province , which led to the death of five citizens and wounding 14 people, including paramedics .
The source pointed out that the hostile aircraft launched a raid on the nursery office of agriculture in the area of ​​ the directorate of Sohar, and two raids on the directorate of Razih  and five raids on the network Kattaf in  Sa'ada .
The aircraft also launched a raid on al-Buqe and a raid o, while a missile attack and a Saudi artillery targeted areas  in the directorate Mnbah and Ghor district and various areas of the directorate of Razih.
The source said that the aggression targeted with  seven raids of the directorate of Sarawah in Marib and launched seven raids on the departments of Harad and Medi .
In Nhim district, a woman and two of her sons were killed and two citizens were injured in a raid on their house in the Qutban area .
The source pointed out that the  aggression committed a third massacre in the province of Hodeidah, where four citizens were killed by a raid targeted  them in Al-Fayza district of the directorate of Tahita, while four raids  targeted  the directorate of Al-Salo  in Taiz province