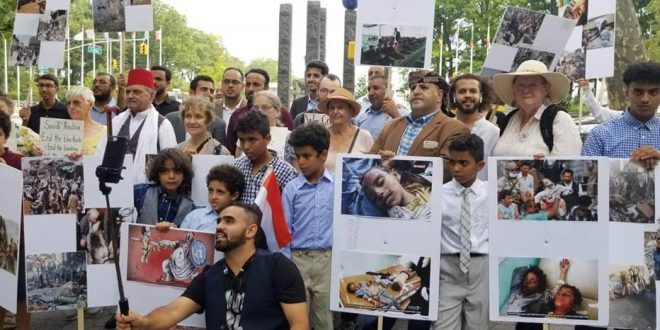 Al-Thawra Net
A number of foreign activists and the Yemeni community on Saturday held a protest rally in front of the United Nations headquarters in New York City in protest against the crimes of the coalition forces against the people of Yemen, the latest of which was the massacre of Yemen's students in Saada province.
The protesters and their children carried pictures of the massacre of Dahyan students, in which 46 children were killed and 56 others were injured by the coalition airstrike last week.
The rally, according to Yemeni activist, "Mohammed al-Zubaidi," aimed to deliver the injustice of the children of the Yemeni people to the world, and the condemnation of coalition crimes since four years ago, according to a statement to the site of the Yemeni news.
Al-Zubaidi stressed that there are attempts by the coalition countries to thwart the rally, but the stops are officially held by the city authorities.
Al-Zubaidi pointed out that the rally was carried out through Yemeni organizations defending human rights official and authorized, and in cooperation with American human rights organizations.
The rally has received wide interaction from various organizations of the American community, with the Yemeni organization, in addition to the interaction of the American citizens and activists who oppose the policy of killing children and innocent by the coalition aircraft, Al-Zubaidi added.
Al-Zubaidi revealed that in the coming weeks many of the events that condemning the massacres and crimes of the Alliance will be organized to be delivered to the world.