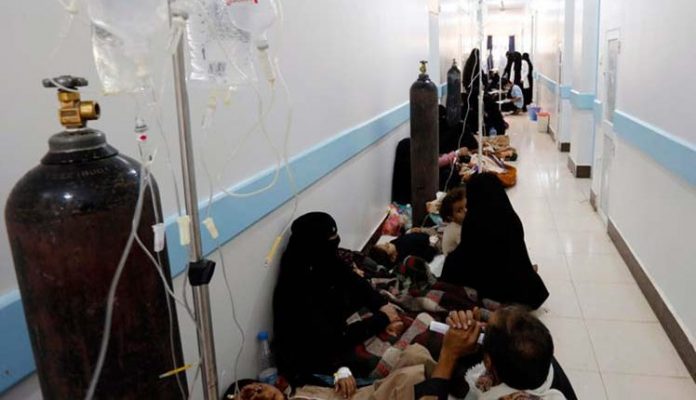 Al-Thawra Net
Over 125 people had died because of water diarrhea epidemic "cholera" since the beginning of 2019, Spokesman of the Ministry of Public Health and Population Dr. Yousef al-Hadri on Thursday said
"The cases infected with cholera exceeded 82,000 infected and suspicious cases since the beginning of the current year until Wednesday, 125 of which died, with an increase of 25 per cent from the last year 2018," said Dr. al-Hadri in an exclusive interview with Yemen Press Agency.
The spokesman noted that the indicators of cholera infection is very high this year, before the start of summer and the rainy season, which provides a fertile environment for the spread of the epidemic.
"There are approximately 500 corners and treating centers for free in all provinces, in partnership with the World Health Organization (WHO) and UNICEF," said Dr. al-Hadri, adding that these centers became unable to receive the increasing numbers of patients.
Dr. al-Hadri attributed the frighteningly spread of epidemics to the destruction caused by the coalition aggression to the water services and sewage networks in remote areas, in addition to the lack of awareness in the community.
He called on the Ministry's partners, topped by the WHO and UNICEF, to urgently provide the necessary needs such as camps and medicines before the disaster worsened.
The spokesman also called on the Ministry of Water and the local authorities in the provinces to take their national responsibilities, stressing the importance of raising awareness and healthy culture about the concepts of prevention among the society members.