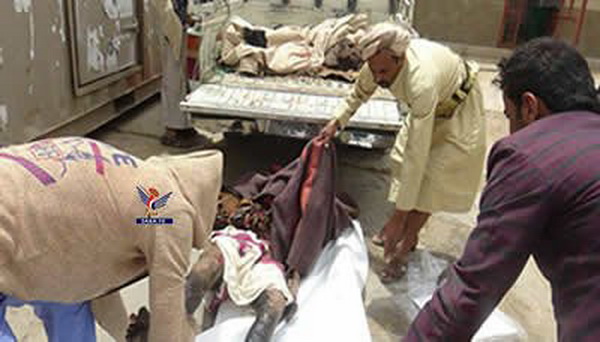 The Saudi aggression and its mercenaries continued to commit massacres against the Yemeni people and violate the cease-fire agreement in Hodeidah province during the past 24 hours.
A security source told Saba news agency that seven citizens were killed and eight others were injured as a result of the attack on the gate of the rural hospital in Kataf district in Sa'ada province.
Saudi missile strikes targeted populated villages in the border district of Razih.
The source pointed out that the invaders and mercenaries shelled more than 50 artillery shells and three Katyusha rockets on different areas of al-Tahita directorate of in the province of Hodeidah.
The  mercenaries bombed  east of Hyss by more than 10 artillery shells and machine guns, and the a military bulldozer renewed  fortifications for mercenaries in Kilo 16 directorate of al-Druhemi.
The source pointed out that the mercenaries shelled medium and heavy weapons village in Kilo 16, and scattered areas east of the city of al-Druhemi.
The source said that the  aggression warplanes  launched 20 raids on the districts of Harad and Midi in the province of Hajjah, and six raids on the directorate of Sarawah in the province of Marib.