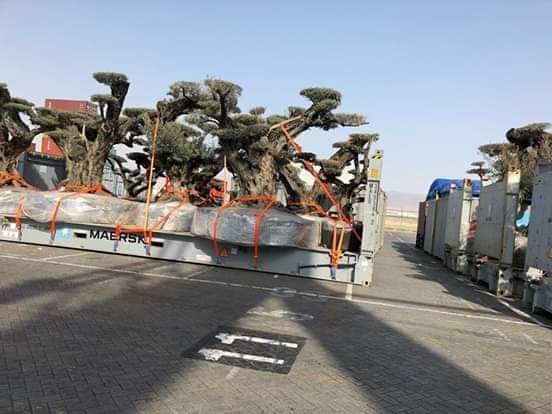 Al- Thawra Net
Yemeni activists have circulated on social media websites pictures and video footage showing the rare perennial trees native only to Socotra island, being displayed in Abu Dhabi, UAE. This confirms previous reports that the UAE forces have stolen these trees during its occupation of the island.
A widely-circulated video shows an Emirati man boasting one of these rare trees after he placed it at the entrance of his house for decoration, confirming that it originated in Socotra, Yemen.
In early 2018, the UAE stole the rare and protected trees from the Yemeni island of Socotra, in addition to large quantities of coral reef stones, rare birds and others.
Observers of events in Yemen described the theft as being done under the guise of "restoring legitimacy", while the country's monuments and resources are looted and its islands are occupied.
Dragon's Blood tree, known locally as "Dum al-Akhawain" or "blood of the two brothers", is considered one of the most important features of the island of Socotra archipelago. The trees only exist on the island, which has a biosphere that is unique on the planet.
Its appearance on the streets of Dubai has angered a large number of Yemeni and international activists.
Many Yemenis have stated their belief that the "UAE's inferiority complex of not having any history and civilisation of its own, drives it to steal what it can from Yemen's ancient civilisation."