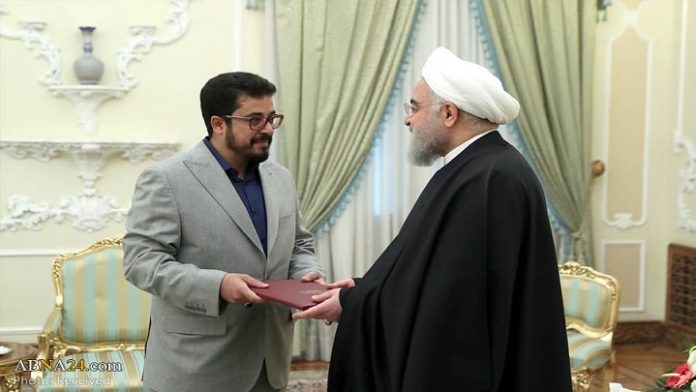 Al- Thawra Net
Yemeni Ambassador Ibrahim Mohammad Al-Dailami presented his credentials to Iranian Hassan Rouhani on Tuesday. Ambassador Dailami conveyed to President Rouhani, during the handover of credentials, the greetings of President Mahdi Al-Mashat, Chairman of the Supreme Political Council. He expressed the Yemeni people appreciation for Iran and its people and that Yemen will never forget the honorable and strong positions of the Iranian government and the Iranian people in support of the Yemeni revolution.
He stressed that the government and people of Iran were the best friend and companion of the Yemeni people, and while the Yemeni people were under the pressure of sanctions and aggression, the Islamic Republic of Iran was the only one that supported the Yemeni people and stood by it and will continue to do so.
"The Yemeni people will always stand beside the Islamic Republic of Iran in the fight against Arrogance and will always support Iran's valuable stances in preserving regional stability and security, especially the Hope Initiative (Hormuz Peace Endeavor)," said the ambassador.
For his part, the President of the Islamic Republic of Iran praised the courage and steadfastness of the Yemeni people against the aggressors.
He admired the resistance of the Yemeni nation against aggressors, noting, "the Islamic Republic of Iran supports the Yemeni people with all its might along their way to establish peace and stability in the country and proceeding Yemeni-Yemeni talks."
Source: Al-Masirah Net